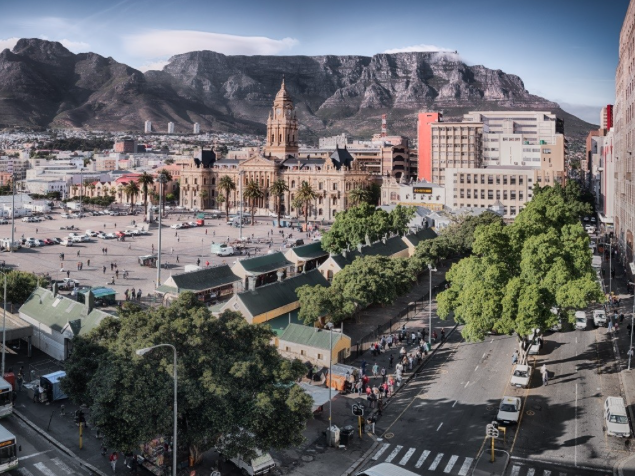 Steeped in history, the site forms the north-western end of the Grand Parade (where some dilapidated trading structures and associated facilities are currently located), Cape Town's primary central public square and the oldest urban public open space in the country. This 1 ha plot forms part of the larger Grand Parade, which in times past was used to host a military parade ground for garrisons stationed at the abutting Castle. Surrounded by prominent heritage buildings like the Castle of Good Hope, the City Hall and the Cape Town Central Library, the Grand Parade fulfils a variety of functions, from open air concerts, events and festivals, a civic demonstration space to conventional day-time car parking. It also hosts significant market and informal trading activity.
Located directly alongside Cape Town's primary multi-modal public transport interchange (ie Cape Town Station), the site is centrally situated and enjoys high levels of accessibility. It also lies at the confluence of two key accessibility corridors linking the sea with the mountain and District Six with the CBD and eventually the Bo-Kaap. 
The grandness of the larger space - needed to express society's concern and accommodate its social interaction, is in conflict with its daily functions. This is one of the main challenges to be addressed by bidder teams. This north-western edge of the Grand Parade presents a high potential to be redeveloped in a more appropriate mixed use medium density scheme that better frames and supports this important public space. The precinct's local, provincial and national historical significance should be sensitively treated and celebrated while making it cleaner, healthier and more sustainable, in order to catalyse the improvement of this unique and wonderful place as part and parcel of life in Cape Town.
Click here for full details and to submit a bid.
Expected program: Proposals for redevelopment and upgrading (of this part of the Grand Parade) should involve new (medium height) mixed use development in and around the area where current dilapidated traders' structures are located, with active ground floor interfaces. In addition, the City has defined important aspects  that bidder teams need to address.  

Owner: City of Cape Town.

Plot area: Approximately 1ha.

Type of transfer intended: Considering the historical significance of the site, the property transfer intended for the site's redevelopment is a long-term lease arrangement that can be discussed with the developer / operator.
Deadline for bids: 4 May 2018
Category:
Announcements
Opportunities
Created
Fri, 03/02/2018 - 07:24
Disclaimer: Any views expressed by individuals and organisations are their own and do not in any way represent the views of The Heritage Portal.