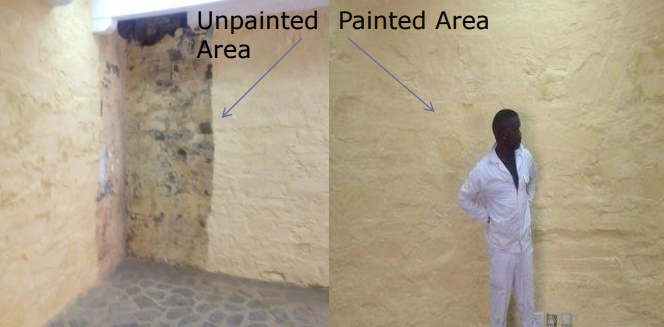 Breathecoat paint is developed to solve moisture problems in walls, pertaining to mainly heritage and old buildings, but new ones as well.
Breathecoat paints allow moisture evaporating out of the wall, through the paint film, but preventing the water migrating back in to the wall. The result: no peeling, blistering, powdering or flaking of paint due to moisture in the wall.
This is specifically functional where moisture is captured in soft clay bricks, rising damp or waterproofing mishaps are present, allowing you to apply Breathecoat paint with the peace of mind that the paint will not peel, blister or flake off due to migrating damp. This paint is specifically specified for buildings where moisture problems are suspected, but is also applied in general, knowing that no comebacks will be triggered due to moisture failure of paints.
The advantages of Breathecoat paint:
No masonry primer required.
Can be applied as soon as the plaster is touch dry.
Environmentally, people and animal friendly.
Prevents fungal growth.
Waterproofing properties.
Hairline crack bridging.
Breathecoat has been extensively and successfully applied at the Cape Town Castle.
Please see the information in the attachment. Email meyer@breathecoat.co.za or phone 021 981 5982 / 071 622 1022 for more details. 
Also a list of Architects and Contractors specifying and using Breathecoat:
David Roberts (Architect) 
Martine Robinson (Architect – Gawie Fagan Architects)
Bertie Chiat (Contractor)
Mark Krige (Contractor)
Daan van Wyk (Contractor)
Anton Fouche (Contractor)
Andy Horn (Architect)
Rene Owen (Contractor)
Justin Clarke (Contractor/agent)
Richard (Client)
Ali Preyer (Architect)
Jim Bolt (Contractor)
Created
Sat, 02/11/2017 - 16:17
Disclaimer: Any views expressed by individuals and organisations are their own and do not in any way represent the views of The Heritage Portal.