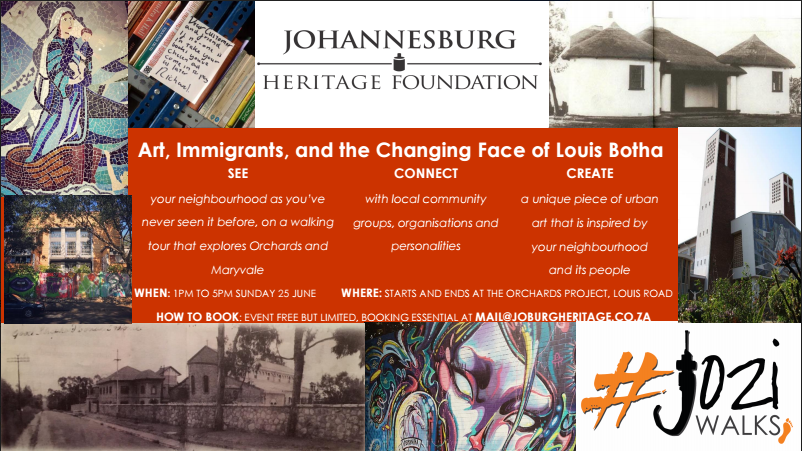 The Johannesburg Heritage Foundation is excited to announce that we will be participating in the inaugural #joziwalks!
#joziwalks is an initiative of the Johannesburg Development Agency that aims to promote the rich cultures, histories and possibilities of Joburg's neighbourhoods.
On Sunday the 25th of June, the Johannesburg Heritage Foundation will be leading an exploration of Art, Immigrants and the Changing Face of Louis Botha Avenue through the suburbs of Orchards and Maryvale. On this unique tour, we will discover local history, architectural gems, and wonderful urban art. And, at the end of the tour, the Orchards Project will help us to channel this inspiration into a new piece of urban art on Louis Road.
See your neighbourhood as you've never seen it before. Connect with community organisations. Create a unique mural that is inspired by your neighbourhood and its people.  
Participation is FREE, but spaces are limited. As a local community organisation, you are offered 2 free tickets each. Please confirm your attendance by emailing mail@joburgheritage.co.za
WHEN: Our tour starts at 1pm on Sunday the 25th of June
WHERE: Park at the Orchards Project, 6 Pine Road, Orchards
YOUR GUIDES: Brett McDougall and Prof. Katherine Munro
YOUR URBAN ART FACILITATOR: Roger Chadwick
Created
Thu, 06/01/2017 - 15:53
Disclaimer: Any views expressed by individuals and organisations are their own and do not in any way represent the views of The Heritage Portal.