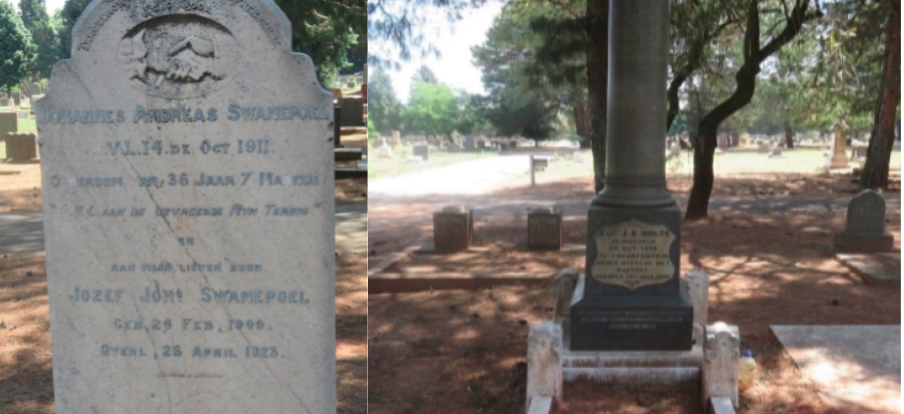 Primrose Cemetery in Germiston is the second oldest on the Witwatersrand. It contains the mortal remains of 544 Imperial Soldiers who perished in the South African War, including the grave of Colonel Benson, famed for unexpectedly and successfully attacking Boer commandos in Mpumulanga, and the grave of Boer General Gert Gravett, who died at Roossenekal after being wounded at the Mapochsgronden while standing next to one of the last remaining field pieces of the ZAR.
Our tour explores how Captain Nolte, a well-known East Rand attorney and rugby player, was treacherously shot and killed at Treurfontein, now Coligny, during the 1914 Afrikaner Rebellion, the graves of miners who suffered the agonising effects of miners' phthisis, the grave of Dr. Spaulding who heroically nursed the sick and dying during the 1918 Spanish Influenza, only to fall victim of this pandemic during 'Black' October 1918, and the graves of soldiers and policemen who were killed in the execution of their duties during the lawless days of the 1922 Miners' Revolt. 
Clare van Zwieten and SJ de Klerk are your expert guides on this fascinating exploration. Wear walking shoes, preferably not open sandals, a hat and have some sun block on hand as well as bottled water. Unfortunately there are no toilet facilities at the cemetery.
Click here to read an article by SJ de Klerk
Email mail@joburgheritage.co.za to book.
GUIDES: Clare van Zwieten and SJ de Klerk
TIME: 14h00
PARK: Within the grounds of Primrose Cemetery, on Cemetery Road.  Meet at the entrance of the cemetery.
COST: R100 for members and R170 for non-members 
DURATION: Approximately 2.5 hours
MAXIMUM No: 50
Created
Thu, 11/07/2019 - 09:53
Disclaimer: Any views expressed by individuals and organisations are their own and do not in any way represent the views of The Heritage Portal.