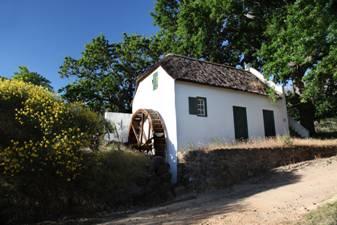 This will be an opportunity for Vernacs to try and decipher what is going on at La Cotte as the walls have been stripped of plaster and the floors taken up.  A plan with suggestions made a few years ago on a previous inspection will be available for people to walk around with and compare the architect's notes with their observations
According to Hans Fransen, the farm was first granted to a Huguenot, Jean Gardiol, in 1713. The T-shaped farmhouse now has a corrugated iron roof and clipped gables, the front gable bearing the date 1836.
With the plaster removed the position of the original casements can be clearly seen. There are number of interesting outbuildings forming the werf, as well as an overshot water-mill a short distance away..
Please read the original La Cotte article in the VASSA Journal (Number 11 June 2004) on the VASSA website so that you arrive well informed!
DATE AND TIME:   Saturday 28 May 2016: 10:30-14:00
Location: Franschhoek
Getting there: Take the N1 from Cape Town. Then Exit 47 and turn right onto the R44. Continue to the Simondium Road. Turn left and continue past Babylonstoren to the junction with the R45. Turn right and continue to Franschhoek. Turn left at La Cotte Street and continue up the road to La Cotte.
Allow about an hour to get there!
This is a members only event. Join VASSA if you would like to attend. Contact - info@vassa.org.za
Created
Tue, 05/10/2016 - 08:32
Disclaimer: Any views expressed by individuals and organisations are their own and do not in any way represent the views of The Heritage Portal.