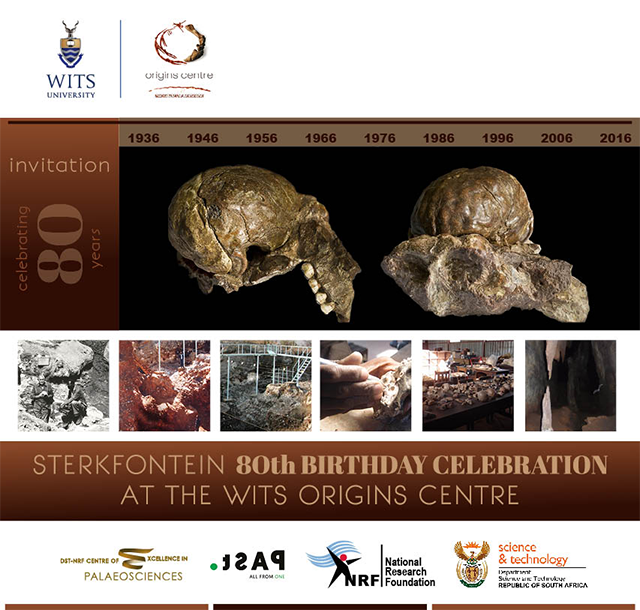 2016 is the 80th anniversary of the discovery at the Sterkfontein Caves, by Dr Robert Broom, of the first adult Australopithecus in the world. To date, no site in the world has provided more fossils of the genus Australopithecus, ancestor to our own genus Homo. This Heritage Day we celebrate the fossil discoveries at Sterkfontein, which are part of our collective human heritage, and have inspired a rich legacy of scientific and cultural enquiry and enlightenment. 
Talks 
By top Wits Professors, all experts in their fields of research including, Professors Ron Clarke, Bruce Rubidge, Francis Thackeray, Mandy Esterhuysen and Rob Blumenschine (Rutgers University, New Jersey). 
On Exhibition
Original fossil of the first adult Australopithecus ever found, Broom's fossil TM1511 and numerous other important original fossils found at Sterkfontein in the last 80 years and original Early Stone Age tools. 
Guided tours
With the scientists and graduate students who work at Sterkfontein. 
Saturday, 24 September 2016 09h30 - 16h30 
Wits Origins Centre, Corner Yale Road and Enoch Sontonga Avenue, Braamfontein, Johannesburg
Book online at: www.wits.ac.za
Created
Thu, 09/15/2016 - 16:21
Disclaimer: Any views expressed by individuals and organisations are their own and do not in any way represent the views of The Heritage Portal.