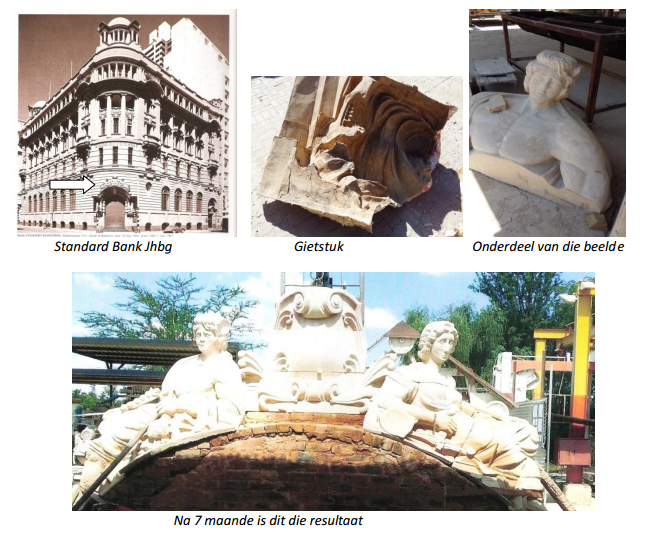 Beste vriende. In die hartjie van Johannesburg se middestad staan die pragtige historiese Standard bank ontwerp deur Stucke & Bannister en opgerig in 1907/8. Na meer as 'n eeu het die sandsteenbeeldgroep bo die hoofingang erg verweer maar die vraag was kan dit nog gerestoureer word. Die antwoord was nee. Sandsteenkunstenaars is 'n uitgestorwe vak en wat nou gemaak. Toe ontdek hulle Sandstone Contracts cc in Silverton, Pretoria en die het aftreksels van die beelde gemaak en daarvan positiewe en tenslotte uit sandsteen replika's gemaak. Maandag 8 Februarie begin hulle met installering te Johannesburg. Die wat belangstel kan nóu nog die beelde groep in hulle werkswinkel besoek op Vrydag (5e) om drie uur. Roel Jansen sal die interessante geskiedenis vertel.
Vanuit Pretoriaweg in Silverton draai in Dykorweg en neem eerste pad links na die treinbrug (Transnetweg). Supa Quick is op die hoek. Draai regs in grondpad by bordjie Sandstone Contracts. Dan weer regs by nog 'n bordjie. Volg net die slingerpaadjie en die sandsteenwerkswinkel kan mens nie mis nie. Roel se telefoonnommer: 082 7777 299.
Email - tshwanebuildingheritage@gmail.com
Created
Thu, 02/04/2016 - 14:36
Disclaimer: Any views expressed by individuals and organisations are their own and do not in any way represent the views of The Heritage Portal.