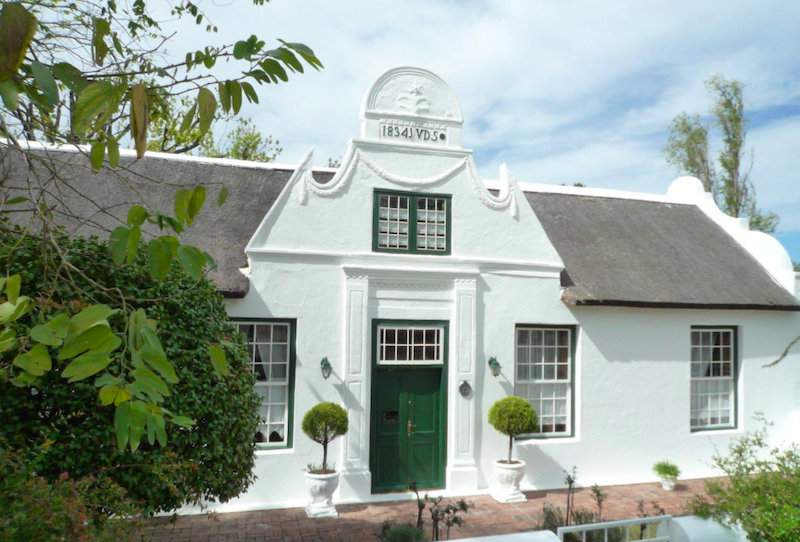 This trendy 5 star boutique guest retreat offers three thatched houses in the famous Cape Dutch architecture, going back to the 1830s. The guest suites combine stylish design, with comfort and luxury. Spacious and private owner's accommodation. Park-like garden with lush scenery and abundant bird-life, tranquil pond covered with lotus flowers and a heated outdoor Jacuzzi. Adjacent to the property, a 2.6 Ha eco-reserve with zebra and springbok can be bought separately. Well situated nearby excellent restaurants and shops. Will be sold as a going concern inclusive furniture and equipment in the guesthouse.
Size Plot: ± 8 000 m²
Size Buildings: ± 650 m²
Grading: 5 star
Guest House: 6 guest units - reception - breakfast room - guest lounge - kitchen - laundry
Garden with pool + Jacuzzi - small game park - on-site parking for 7 cars
Private: reception - lounge - dining - kitchen - 2 bed - 2 bath rooms - private garden
Asking Price: R 8.5 M + VAT at zero-rating
Taxes & Rates: ± R 2 200 / month
Contact Francis Vanderlinden from Prime Invest for more information - 082 566 4700
Extract from Fransen via Artefacts:
This house was built by Johannes Christoffel Rothmann, blacksmith, in 1834. The initials on the gable, JVDS. have caused much confusion, especially as a certain J van der Spuy was living in Swellendam at the time. However, no connection between him and the house can be traced. Lance Tomlinson got the information that the letters stand for 'Jaar Van De Slaven' from Douw Gerbrandt Steyn of the farm Voorhuis aan die Breede Rivier, who was born c1855. JC Rothmann died in 1873, so DG Steyn was likely to have heard the information first-hand. The interpretation is supported by the inscription (now obliterated) 'Vry Gehoght' in the semicircular cap of the west side gable. The house is T-shaped, with holbol end-gables and a front-gable similar to that of Kliprivier. The front windows and door are contemporary with the house, the four full sashes small-paned but without fixed transoms.
Created
Tue, 03/16/2021 - 15:19
Disclaimer: Any views expressed by individuals and organisations are their own and do not in any way represent the views of The Heritage Portal.