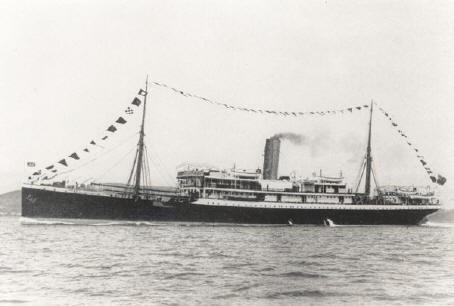 On January 16, 1917 the Mendi troopship sailed from Cape Town en route to La Havre in France carrying the last contingent of the South African Native Labour Corp comprising 805 black private, 5 white officers and 17 non-commissioned officers as well as 33 crewmembers. The SANLC comprised men who had been recruited throughout South Africa to serve as workers and labourers on war fronts but not as armed soldiers.
On the morning of 21 February 1917, another ship, the SS Darro travelling at full speed and emitting no warning signals, rammed the SS Mendi, which sank in 20 minutes. No steps were taken by the SS Darro to lower boats or rescue the survivors. She stood off and floated nearby while lifeboats from the SS Mendi's escorting destroyer, HMS Brisk, rowed among the survivors, trying to rescue them.
There are many stories of bravery about the men's bravery as the ship went down. One of them is that of the Reverend Isaac Wauchope Dyobha, who cried words of encouragement to the dying men:
"Be quite and calm my countrymen, for what is taking place now is what you came here to do. We are all going to die, and that is what we came for. Brothers, we are drilling the death drill. I, a Zulu, say here and now that you are all my brothers... Xhosas, Swazis, Pondos, Basotho and all others, let us die like warriors. We are the sons of Africa. Raise your war cries my brothers, for though they made us leave our assegais back in the kraals, our voices are left with our bodies..."
The Johannesburg based heritage architects Brendan Hart and Yasmin Mayet, who have been working on the redesign and restoration of the  Mendi memorial in the Avalon Cemetery in Soweto will be in conversation with Kathy Munro about their work, memorial architecture and the challenges of meaningfully remembering the loss of the SS Mendi a century later.  JHF commemorates the men of the SS Mendi at an event (a lecture and a docudrama film) on 26th Novembrr at 2 pm at Northwards . We shall tell you all about the forthcoming event .
Created
Mon, 11/21/2016 - 06:11
Disclaimer: Any views expressed by individuals and organisations are their own and do not in any way represent the views of The Heritage Portal.