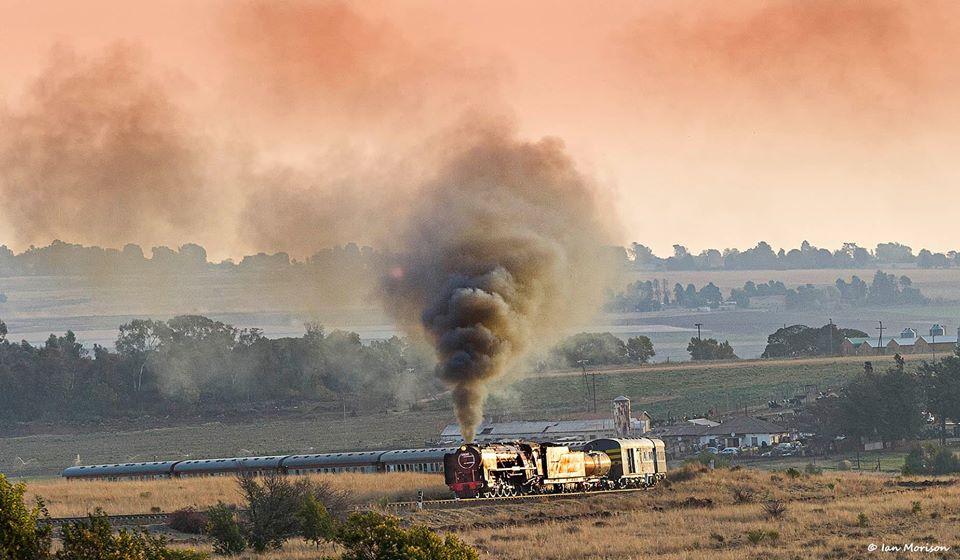 On the 14th December 2019, the Directors of Reefsteamers shared some very sad news with members... the organisation would be shutting its doors. The Heritage Community applauds the efforts of so many passionate enthusiasts over the years. Let's hope that there is still another chapter to be written at some point. Thank you to Sandy Buchanan for sharing the letter.
As you are all aware, Reefsteamers has been the pioneer volunteer led group running steam hauled charter trains on the national network since 1995, some 24 years. This is unparalleled in South African Railway Heritage history. Not only have we as a group demonstrated our ability to run trains, but also to restore, maintain and repair the locomotives which haul them. The journey has been a difficult one for a number of reasons, primarily the lack of any financial backing or funding from any source and the difficulty in dealing with a parastatals that more often than not refuses to communicate with us, assist us, or even acknowledge our existence and herculean efforts to preserve their assets for the enjoyment of future generations. The recent centenary celebration for the Class 12AR was completely ignored by TFR who own the locomotive with not one official attending the event despite being invited. This coupled with some very poor decisions taken by our own management a number of years ago and still presenting us with significant monetary implications has placed Reefsteamers in an extremely difficult and precarious financial position.
The current Reefsteamers management and Board of Directors has for the past five years at least, diligently persevered to put in place sound business procedures in an attempt to put Reefsteamers on a sound sustainable footing which would allow it to grow and eventually become a financially secure organization. To this end, the Board of Directors has engaged with very senior management up to and including the Chairman of the Transnet board requesting assistance in a number of areas, including the routes we can operate on and some relief from the crippling charges imposed upon our organization such as depot lease rental and YQ charges. To date, these pleas have fallen on deaf ears and our correspondence to them in the way of emails and letters are frequently simply ignored without even the courtesy of an acknowledgement.
You will all I am sure, remember the disastrous trips to Magaliesburg from 2017 to January 2019 when our trains were subjected to monstrous delays due to infrastructure issues and the frequent failure of the TFR pilot to be in position at Krugersdorp to take our trains on. This led to a sudden and dramatic loss of passenger bookings and hence ticket revenue, our only source of income currently, not to mention the vitriolic comments directed at us through social media by our disgruntled passengers which had a serious knock-on effect. This led to us withdrawing from this route. Complaints to TFR regarding the late running of trains and late arrival of Pilots again largely fell on deaf ears with the same scenarios repeating time and time again. We were advised to find a shorter route which we did, identifying the Heidelberg route.
For us it was ideal being shorter and a good destination. However, as you all know, the unacceptable delays and broken infrastructure have again emerged to impede our operations and this route is also no longer viable as it stands.
Our Free State tour train for overseas visitors, for which we paid a R300,000 YQ charge would, if it had been completed satisfactorily, made a healthy profit for Reefsteamers. However, on arrival at Gumtree less than 1 day into the trip, the train was stopped by TFR and turned back because the line was unsafe. It now transpires that the line apparently had not been inspected by TFR as it should have been. To date, TFR have refused to entertain requests for a refund.
Over three years of negotiating with TFR property management by Clive Holliday and two years before that by Shaun Ackerman highlighting our inability to pay the rental for Germiston Depot and requesting a reduction in monthly payments and write off of debt has got us absolutely nowhere. Our argument that as the locomotives and rolling stock are all TFR assets, we feel we should not be forced to pay for the very site to keep them on has again fallen on unsympathetic ears and has been met with a demand for the immediate payment of all outstanding rental arrears within seven days, something Reefsteamers is unable to do.
These are just some of the enormous problems we have tried to deal with.
As a responsible Board of Directors, we cannot just sit back and ignore these issues, nor the dire financial position we find ourselves in as it is not going to go away. It is therefore with the utmost and most sincere sadness that we have to inform you that the Board of Directors has unanimously decided by resolution to place Reefsteamers Association (NPC) into voluntary liquidation, as to knowingly continue to trade insolvently is an offence under Company law. We know this will come as a huge shock to you all and in particular to those active members who have given so freely of their time for so long regularly and over such long difficult hours. The bottom line is, without some tangible assistance we simply cannot carry on alone.
Our train to Irene we ran on the 14th December 2019 was the very last, and Reefsteamers ceased trading immediately upon the trains return to the depot and dropping of the locomotive fire.
We would like to thank all of you for your dedication and unselfish support throughout the years and would ask you to remember that we tried our best but have to be man enough to admit we have failed in our quest to save South African railway heritage. Every one of you can unashamedly walk away with your head held high.
As of end of business on the 16th December 2019, the depot will be closed and only certain key staff members of Reefsteamers will remain under casual employ by individuals to maintain a presence on site until we have had the opportunity to engage with Transnet, The Department of Tourism and Public Enterprises in January of 2020.
The site will also remain guarded 24/7 for the time being thanks to the generosity of Wilfred Mole and the Sandstone Heritage Trust.
Because of safety and security reasons, the security officers and our staff have been instructed not to allow anyone into the depot from the 16th December, until January of 2020, after which we would have had the opportunity to engage with the powers that be.
Directors: Shaun Ackerman (Engineering); Simon Bennett (Operations); Alan Leesam (Finance); Philipp Maurer (Website & Tours); Greg McLennan (Safety)
Main image via Ian Morison
Created
Thu, 01/16/2020 - 19:54
Disclaimer: Any views expressed by individuals and organisations are their own and do not in any way represent the views of The Heritage Portal.