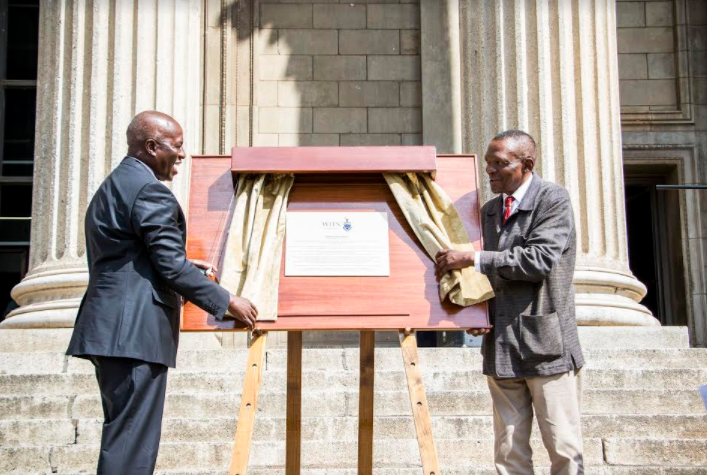 On 18 September 2017, Central Block at Wits was officially renamed Robert Sobukwe Block. A moving ceremony was held where Wits Chancellor, Justice Dikgang Moseneke and Sobukwe's son, Dini Sobukwe unveiled a plaque. The inscription is published below (courtesy Wits Communications).
"True leadership demands complete subjugation of self, absolute honesty, integrity and uprightness of character, courage and fearlessness, and above all, a consuming love for one's people."
Robert Sobukwe Robert Mangaliso Sobukwe, the founder and first president of the Pan Africanist Congress waged a fearless struggle against the apartheid government. He fought for the emancipation of Africans and gave up his life for a just and honourable cause.
He is celebrated for his role in initiating and leading the anti-pass law protests of 21 March 1960. A political activist at Fort Hare in the 1940s and 1950s, he was one of the foremost intellectuals on Pan-Africanism. He completed an Honours degree and served as a Lecturer in African Studies at the University of the Witwatersrand.
After his arrest in 1960, he was sentenced to three years in prison. He refused legal assistance as he did not recognise the legitimacy of the court or justice system under apartheid. He was an immense threat to the apartheid regime, to the point that the Sobukwe Clause, a special law, was passed, which kept him in solitary confinement on Robben Island for a full nine years, during which time he obtained an economics degree. He was put under house arrest in Kimberley in 1969, and completed a law degree. He was eventually permitted to open a law firm three years before his passing in 1978.
In commemoration of his service to the University and his fight against apartheid, Central Block is duly renamed the Robert Sobukwe Block.
This plaque was unveiled on 18 September 2017 by the Chancellor of the University of the Witwatersand, the former deputy Chief Justice of South Africa Dikgang Moseneke and Mr Dini Sobukwe, the son of Mr Robert Sobukwe.
Created
Mon, 09/18/2017 - 19:41
Disclaimer: Any views expressed by individuals and organisations are their own and do not in any way represent the views of The Heritage Portal.