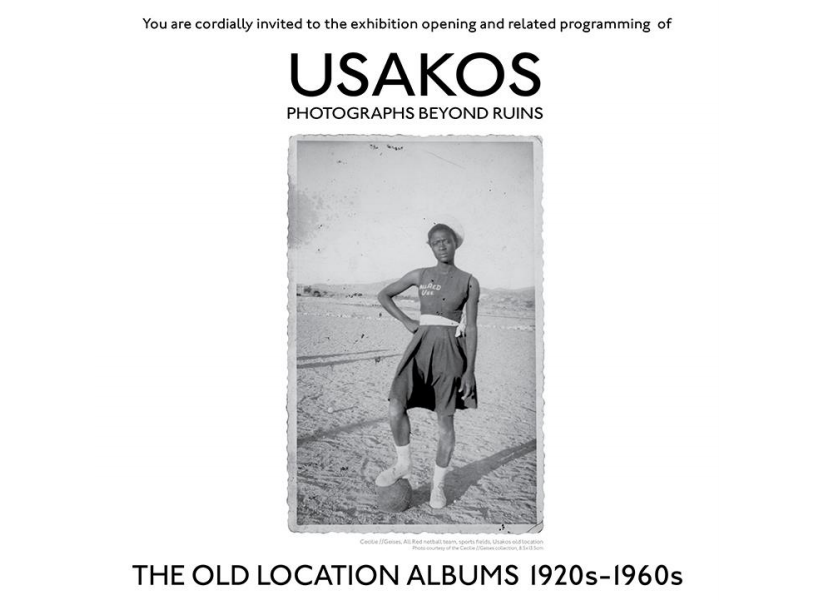 The Wits City Institute, in partnership with historians Giorgio Miescher (University of Basel) and Lorena Rizzo (University of Bielefeld and Harvard University), curator Tina Smith (District Six Museum Cape Town) and the photographer Paul Grendon, (Cape Town), in cooperation with the University of Namibia, the Museums Association of Namibia and the Municipality of Usakos in collaboration with the International Conference "Circulations": the (un)making of Southern Africa beyond and across borders" is delighted to invite you to Photographs beyond ruins: The Usakos old location albums, 1920s-1960s. Opening Reception: Friday, 4 November 2016 at 17h00
Gallery Address: 23 Voorhout Street, (cnr. 4th Street), New Doornfontein, Johannesburg 2094
R.S.V.P: Farah-Naaz.Moosa@wits.ac.za by 1st November 2016
The exhibition presents a selection of photographic prints and contextual information, designed around three private photographic collections kept by four women (Cecilie Geises, Wilhelmine Katjimune, Gisela Pieters and Olga Garoes) in a central Namibian town called Usakos. Usakos' history is linked to the development of the South African railway system in Namibia, which brought remarkable prosperity to the town in the 1940s and 1950s, but caused a major socio-economic decline in the early 1960s. At this stage, the inhabitants of Usakos were subjected to forced removals based on racial segregation and apartheid urban planning and relocated on the town's outskirts.  Today, Usakos is a town marked by economic stagnation and many social challenges.  The photographic collections are part of a diverse culture of remembering, memory work and community building. These images constitute personal albums, subjective narratives of and aesthetic interventions in the course of a history that left people out of sight/site; a history that denied them visibility and voice as residents, citizens and human beings. The photographs covering a wide range of genres, subjects and locations also include portraits of family members, images of public spaces, of leisure activities, and street-views. African itinerant photographers and residents of the old location, whose work was considered to be part of an inclusive, cosmopolitan notion of community and African cultural production, took most of the pictures. The social, cultural and aesthetic variety of life in the 'old location' ('ou lokasie') informs the ways in which people relate to these photographs today: with pride and a deep sense of nostalgia and loss. Forced removals and decades of economic hardship and political tutelage ruined a thriving community, and the photographs have become distant reflections on a landscape meanwhile marked by decay and dislocation. The exhibition is on permanent display in the newly established Usakos Museum but also travels in southern Africa as well as overseas.
Walkabout of the exhibition: Saturday, 5 November 2016 from 11h00
Exhibition runs from 4 November – 3 December 2016 at ROOM Gallery & Projects
Created
Mon, 10/24/2016 - 09:40
Disclaimer: Any views expressed by individuals and organisations are their own and do not in any way represent the views of The Heritage Portal.