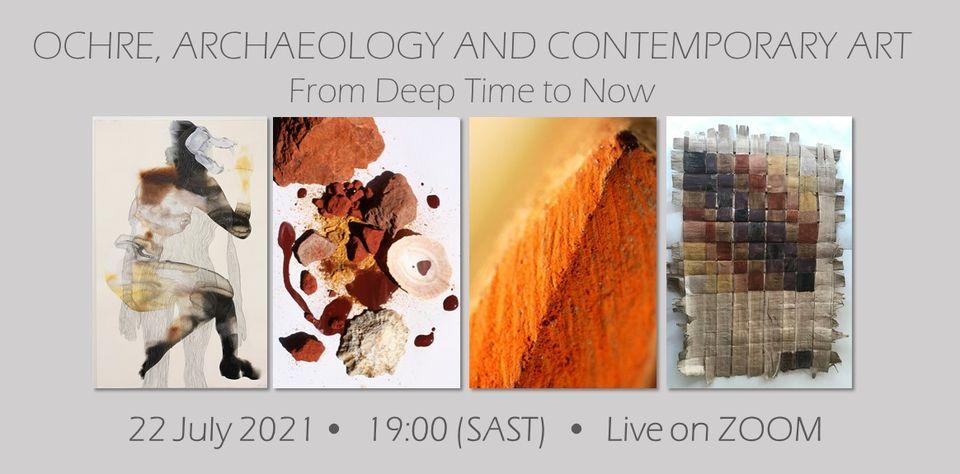 Join archaeologist and curator Dr Tammy Hodgskiss, contemporary artist Ann Gollifer and traditional mural artist Motsei Nkwemabala as they discuss the long history of ochre, and an exciting new initiative making watercolour paints from the earths of Botswana. With producer and translator, Tumelo Nkwe. Happening on 22 July 2021 at 19h00.
Zoom link: https://wits-za.zoom.us/j/94991400803
About the speakers
Ann Gollifer is a British-Guyanese visual artist who has lived and worked in Gaborone since 1985. Her current practice centres around watercolours made from ochres sourced in Botswana. She met Motsei Nkwemabala in a yellow riverbed in Mochudi, where both women where foraging for ochre to make into paint. They became friends and Motsei provides Ann with an array of different coloured ochres for her paint.
Motsei Nkwemabala is a resident of Mochudi traditional town, that lies 45 kilometres North of Gaborone, capitol city of Botswana. Motsei is of Herero-Mokgatla heritage. She is one of a few women who still annually paint their earth buildings with ochres collected from traditional dig sites in the landscapes around the village. She is also a healer, specialising in women's health. She uses the small painted outbuilding in her yard for massaging pregnant women. She and her husband, a traditional healer, run a church from their yard that services the community around them. The Covid pandemic has put a stop to the activities of their church for the time being but Motsei is still collecting ochre and processing it into paint to beautify her home.
Tammy Hodgskiss (married surname Reynard) is South African. She is the curator at the Origins Centre museum, at Wits University. Tammy is an archaeologist and researches ochre use in the Middle Stone Age. Her research focus is on how ochre and pigment was used in the past and how this can help inform interpretations of cognitive abilities and social behaviours of early modern humans. As the curator at Origins Centre she is responsible for exhibitions, lectures and educational programs. She runs interactive ochre workshops involving ochre pigment and paint creation, and archaeology-inspired painting.
Tumelo Nkwe is Mogkatla, originally from Mochudi. He lives and works in Gaborone, where he is a production manager for a film production company, 'Visual Expression'. He is currently the Secretary of the Art Residency Centre, Gaborone, working closely with Ann Gollifer. Tumelo is also involved in production for fashion shows and interior set design, both nationally and internationally. Tumelo accompanies Ann on her ochre field trips and acts as a translator when necessary.
Created
Thu, 07/08/2021 - 08:37
Disclaimer: Any views expressed by individuals and organisations are their own and do not in any way represent the views of The Heritage Portal.