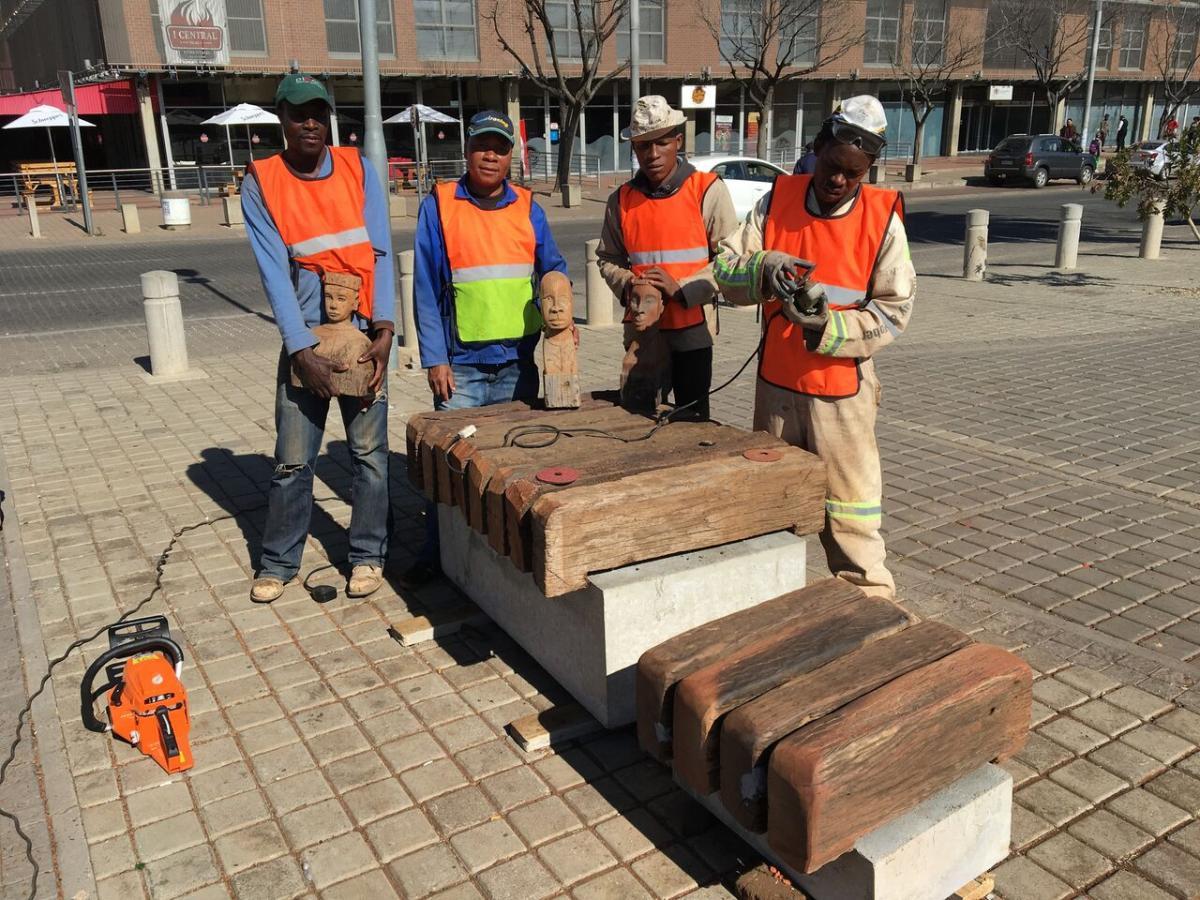 On Saturday July 14 at 13:00 the newly restored Newtown Heads and a colourful new art installation by the Imbali Visual Literacy Project will be revealed to the public at a festive  launch on Mary Fitzgerald Square as part of the inaugural Newtown Now festival.  
The Newtown Heads, a public art installation of 560 carved wooden heads that sit on plinths across the Newtown Precinct, have become one of Newtown's most iconic features over the last  17 years.
Americo Guambe and a Newtown Head (Johannesburg Development Agency)
In 2018 the City of Johannesburg's Community Development Department of Arts, Culture and Heritage Directorate announced it would restore and repair these much-loved public artworks, many of which have become severely damaged or destroyed over the years.  
Spearheading the refurbishment of the Newtown Heads is sculptor Americo Guambe who led the original team of artists who first created them in 2001. Made from old railway sleepers, each hand-  carved head is unique, representing a sea of faces from across the African continent.
Americo Guambe says of his Newtown Heads sculptures; "I wanted to show the people of Johannesburg that it is a city of many diverse cultures. And so the heads do that – people of all races, genders, ages and cultures adorn the plinths around Newtown and the city."
The first stage of the refurbishment has seen the restoration and replacement of 196 heads around Mary Fitzgerald Square and along the pedestrianised walkway that connects the square to Helen Joseph Street. These heads will be joined by a new public art installation led by Imbali Visual Literacy Project that includes coloured flags which will be hung from the square's lampposts and large screen-printed banners emblazoned with images of Newtown's iconic buildings.
Restoring the Newtown Heads (Johannesburg Development Agency)
Newtown Now festival and the launch of the Newtown public art installation
On Saturday July 14 at 13:00 the restored Newtown Heads and the new public art installation by Imbali will be officially unveiled on Mary Fitzgerald Square with a festive celebration as part of the inaugural Newtown Now festival.
Newtown Heads waiting to be installed (Johannesburg Development Agency)
Newtown Now is a free festival that celebrates Newtown's unique culture and heritage, at the heart of which is Newtown's iconic public art installations. The one day festival on Saturday July 14 includes free walking tours, arts and heritage exhibitions, creative workshops, family events and a flea market. Participating venues and tour guides include: Sci-Bono Discovery Centre, the Worker's Museum, The Market Theatre, Museum Africa, Market Photo Workshop, Stop Sign Art Gallery, 56 Pim Studio, Past Experiences, and the Newtown Junction Precinct.
A wonderful sight. The restored Newtown Heads (Johannesburg Development Agency)
Please find a selection of press images of the Newtown Heads here. For all interview requests and press enquiries about Newtown Now please contact Melusi Hlatshwayo at melusi.hlatshwayo@inyourpocket.com
Category:
Announcements
Events Exhibitions Tours
Created
Wed, 07/04/2018 - 16:55
Disclaimer: Any views expressed by individuals and organisations are their own and do not in any way represent the views of The Heritage Portal.