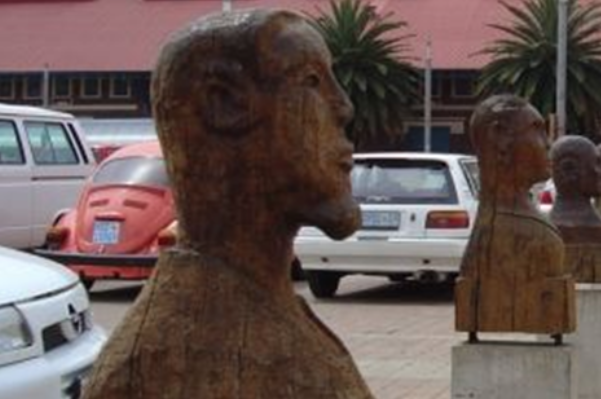 A team of artists will soon be refurbishing a collection of over 500 wooden sculpted heads at the Newtown Cultural Precinct.  The Heads of Africa sculptures have been much-loved by the public, becoming a distinctive feature of the Newtown Cultural Precinct over the past 15 years.
By now however, many of the artworks are either missing or in poor condition, hence the need for the current intervention. In recent weeks, a condition survey was done of the artworks, to identify which heads need to be replaced or repaired.
As a next step, a team of artists is being assembled, led by Americo Guambe, one of the lead-artists involved in the original creation of the heads.  The artists will be tasked with sculpting new heads top replace those which are by now missing, or damaged beyond repair. At the same time, they will repair and refurbish those existing heads which still remain serviceable.  
Over the next few months, the initial focus will be on restoring the integrity of the artworks lined up along the central walkway of Mary Fitzgerald Square, where there are plinths for about 80 heads.  The plinths - which are now in bare concrete – will be decorated with colourful mosaic designs. A new information module to be introduced on Mary Fitzgerald Square will highlight interesting information on the project. Later in the year, the work will be extended to other parts of Newtown.
Made from disused railway sleepers, the Newtown heads are drawn from different countries and traditions from across the African continent.
The project has been commissioned by the City of Johannesburg's Department of Community Development, and will be implemented through the Johannesburg Development Agency.  
Media statement released by the City of Johannesburg.
Created
Wed, 03/14/2018 - 12:05
Disclaimer: Any views expressed by individuals and organisations are their own and do not in any way represent the views of The Heritage Portal.