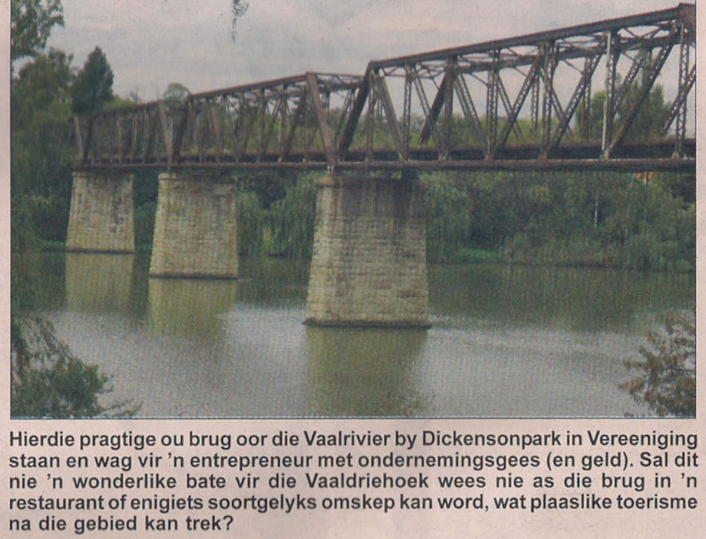 Please find attached a piece I found in the Triangle Courier a free community newspaper, dated April 26-29 2016 on page 16. Imagine my surprise when I saw that this bridge still exists!!
Dickinson Park, which is on the banks of the Vaal River in Vereeniging, used to be a popular camping, caravaning and fishing sight. It also had zoo. I haven't been the for ages, so I really don't know the current state of the park or how accessible the bridge is. I know very little regarding the history of the bridge and would be interested to find out more. Can anyone assist?
The bridge can be found by taking Voortrekker St into town, then either turning left into Rhodes ave, or Victoria ave further on; then right into Mario Milani drive. Continue to where you see an industrial site on the right, Dickinson Park in directly opposite on the left. On Google Maps/Earth it is labeled as the Old Wagon Bridge.
I think an expert would be able to advise whether the bridge is worth saving, either as a tourist attraction or commercially as a restaurant as suggested in the article. 
Any additional information would be welcome.
Quintin McLaughlan - quintinmclaughlan@yahoo.com
Created
Wed, 05/04/2016 - 19:41
Disclaimer: Any views expressed by individuals and organisations are their own and do not in any way represent the views of The Heritage Portal.