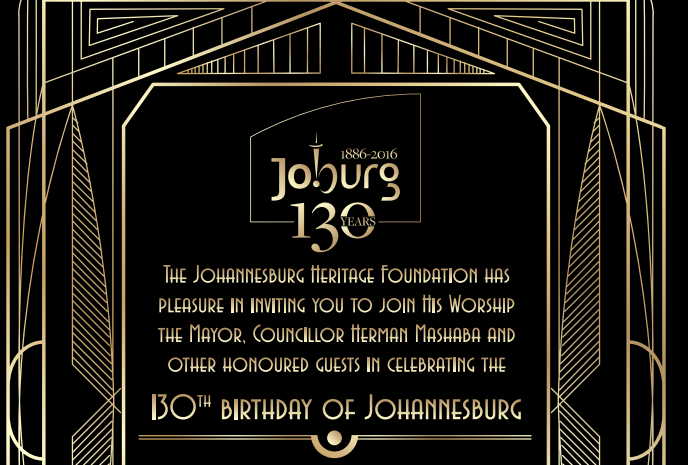 Johannesburg's new Executive Mayor, Councillor Herman Mashaba, will be celebrating the city's 130th birthday with young people from nearby Children's Homes, at a special event at Museum Africa on Tuesday 4 October.
"With some of the children arriving on a genuine London Bus dating back to 1952 and kindly provided by the James Hall Transport Museum, the morning will be full of distinctively Johannesburg fun," said Flo Bird of the Johannesburg Heritage Foundation. "Apart from the cake and candles, there will be 'mining games' like pebble sorting, sifting of mine sand, and singing of 'Shosholoza."
The Mayor will be given a splendid gold sash to make up for not having a chain, said Bird. We know these are but the trappings of power, but people want to be able to identify him easily and we don't want to ask him to wear a silly hat.
She said the event is part of efforts to raise the profile of Museum Africa as a vital and exciting part of every resident's legacy. Housed in what used to be the city's main fruit and vegetable market, the museum dates back to 1935 and also collects southern African exhibits from the Zambezi River down; a highlight is an Iron-Age Tswana house, including a furnace for working iron.
Museum Africa from above (The HEritage Portal)
"The museum has so much to offer, but has been shockingly neglected by the council for many years," she said. "They simply failed to fill the posts of curators as these became vacant.  We are slowly seeing some improvements, and we want to encourage local residents to enjoy and support this national treasure. We intend exploiting its excellent opportunities for school tours and we want the City to wake up to the enormous tourism potential."
Museum Africa has huge collections from which are found the specialist items lent out to satellite museums such as Hector Pietersen Museum. There are literally hundreds of thousands of images – photographs, pen and pencil sketches, oil paintings, watercolours, cartoons, postcards and family albums recording the history of people of South Africa. Specialist collections of beadwork, ceramics, jewellery, utensils and furniture as well as the Bernberg collection of Fashion and Textiles, the Bensusan Museum of Photography. Oldest of all is the Geological Museum which was first displayed in 1896
On display for the very first time will be some of the Museum's collection of architectural drawings. The art of the draughtsman is being replaced by the computer, but the intrinsic interest of these early homes, old telegraph building and the beauty of the drawings themselves will not be lost as this collection is being built up to reflect much more of the city's development from two roomed cottages to powerhouses of mining and other industries.
The event will begin at 10.30 am and finish at 12.30 pm. For more information, contact Eira Bond at the Johannesburg Heritage Foundation on 011 482 3349 or by email at mail@joburgheritage.co.za. Parking is available on Mary Fitzgerald Square directly opposite the museum.
Created
Sat, 10/01/2016 - 16:53
Disclaimer: Any views expressed by individuals and organisations are their own and do not in any way represent the views of The Heritage Portal.