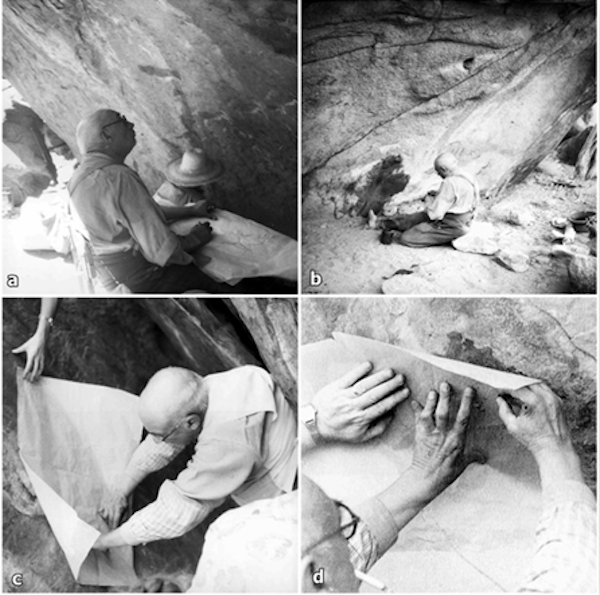 The only mention of Abbé Henri Breuil, a famous French prehistorian, in my undergraduate degree at Unisa, had been in connection with the 'White Lady' of the Brandberg in Namibia. Breuil had been maligned for what was widely viewed as a racist opinion, namely that the figure depicted a 'white female' and that because of its apparent sophistication the panel must have been painted by foreigners. In 2010, while on a rock art tour at the farm Anibib in the Erongo Mountains, Namibia, I was surprised that the guide kept referring to Abbé Breuil in connection with the paintings on the farm.
When I asked Martin Steppe, the manager/guide of the farm, where he was sourcing his information, he showed me a copy of Breuil's 1960 publication Anibib and Omandumba West and other Erongo Sites, which features copies of rock art that he had traced there in 1948 and 1950 and then painted in water colour on his return to Johannesburg.
I chose to revisit some of Breuil's Erongo work for my Honours thesis. I compared copies by other researchers as well as copies I made using an enhancement programme, Dstretch©, to try to determine what 'accuracy' in rock art entails and whether Breuil was successful.
My talk will be based on this research.
Barbara Dunn 
Date: Saturday, September 15th at 10:30 am
Venue: Phansi Museum, 500 Esther Roberts Road (cnr Cedar Road), Glenwood, Durban
Coffee and tea will be available at the Phansi at own cost.
Created
Fri, 08/17/2018 - 16:03
Disclaimer: Any views expressed by individuals and organisations are their own and do not in any way represent the views of The Heritage Portal.