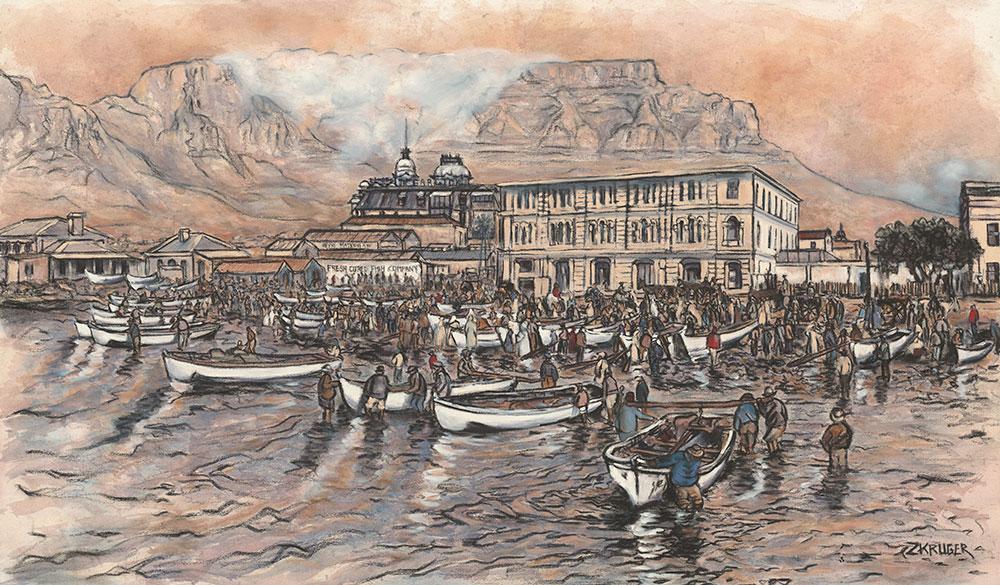 StateoftheART is proud to present Lizelle Kruger's solo exhibition Cape Town Memoirs And Dangerous Liaisons which opens at their Buitenkant Street gallery in Cape Town on 1 March 2018.
Odalisque by Lizelle Kruger
Kruger's large-scale street and landscape works of the Mother City from the 1920s to 1960s form the backdrop to the women who take centre stage in this exhibition. The artist pays tribute to women from every sphere of society;  women who participated in dockside liaisons, women who operated the 'Sugar Houses', and the imported female slaves - many of whom were housed at the Company Slave Lodge which can still be seen in Adderley Street.
Lizelle Kruger at work
"Let us remember the souls of those who were brought to the city by force. The people who brought with them the knowledge of crafts and who filled our homes with the lovely aroma of cardamom, cinnamon, incense and curry. Let us remember the indigenous Khoi who slept in the shadow of the mountain under the moon and stars long before four poster beds arrived by ship in the harbour. May the labour and memory of the unsung heroes of Cape Town never be in vain and remain in our hearts" – Lizelle Kruger
Cape Town Memoirs and Dangerous Liaisons is a body of work created in the oldest building in Cape Town: The Castle of Good Hope.
The Castle (The Heritage Portal)
Exhibition Details:
CAPE TOWN MEMOIRS AND DANGEROUS LIAISONS | A solo exhibition by Lizelle Kruger
Date: 01 – 30 March 2018
Venue: Buitenkant Street Gallery, 50 Buitenkant Street, Cape Town (click here to view on google maps)
Opening addresses:
Mr C T Gilfellan, CEO of the Castle of Good Hope
Mr Simon Norton, Local Historian
Thursday 01 March at 18:30
Artist Biography:
Lizelle Kruger is a contemporary visual artist working in a variety of media from a studio in Cape Town.  The artist has worked as a graphic designer in the South African Defence Force and is presently working at the Military Museum at the Castle of Good Hope (Cape Town).
2014 – solo exhibition, Hilton, Kwazulu Natal,  2013 – One in a Million at Salon 91, Cape Town. 2011 –  solo exhibition of drawings at The Castle of Good Hope Cape Town; Karoo Kado'tjies, solo exhibition at Salon 91, Cape Town. 2008 – Women in Art at Mondo Arte Gallery, Dubai. 2007 – Summer Exhibition at Oisin Gallery, Dublin. 2003 – Solo Exhibition at the Cape Gallery, Cape Town; 1993 – SANDF Group Exhibition, Pretoria.
Another shot of Lizelle Kruger at work
About StateoftheART:
StateoftheART is a boutique gallery and e-commerce platform operating from 50 Buitenkant Street, in the historic District Six precinct of the Cape Town CBD.
For more information contact Jennifer Reynolds | Gallery Director
www.stateoftheart-gallery.com | (+27) 0724709272 | jennifer@stateoftheart-gallery.com
Created
Sun, 02/04/2018 - 15:31
Disclaimer: Any views expressed by individuals and organisations are their own and do not in any way represent the views of The Heritage Portal.