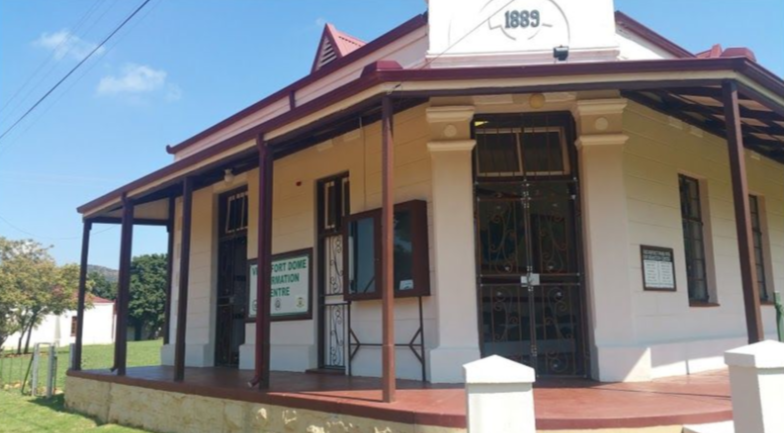 These properties don't come onto the market often. Venterskroon is an old goldmine town in the heart of the Vredefort Dome just outside Potchefstroom, next to the Vaal River and is part of the world's biggest and oldest impact crater formed by a meteorite 2000 million years ago. Price - 4.5 million. Contact Wynand Olivier from Remax - 082 772 8533 or wynandlolivier@gmail.com
Structures and buildings:
1. Vredefort dome information centre:
This building was built in 1889 and was used as a Post Office, Police Station and school. Today it is the Dome Information Centre and is currently being rented by the Government for R15 000 p/m. Contracts still need to be put in place. It has a video room, display room and public toilets. This building is a declared heritage site. 
The Government owns some furniture, maps and pictures but the foillowing items are included in the sale: 8 x CCTV Cameras with hard drive in safebox; 2 x 42" HD monitors with wall fittings; 1 x HD Projector; Blinds; Security gates; 8 x Public Toilets; Walk­ in Safe; 2 x Fans; Computer with 22" HD Monitor, keyboard, mouse and other cables; 50m of HDMI cables; Carpets; 3 Seater, 2 Seater and 2 loose Sofa chairs; Movable storing seat; Frames
Electricity for this building is paid for by the Government
2. Old Schoolmasters house: 
 
This building was built by the schoolmaster and is currently a self catering guest house. The house was renovated and refitted with beautiful custom made, security burglar bars and gates. 4 x flood lights were installed around the house. The house has Oregon Pine wooden floors and ceilings (ceilings are covered with ceiling boards). The bathroom and kitchen have also been renovated and refitted. All the plumbing was redone and a new geyser has been fitted.
The guest house is rented out for for R1000 p.n on an average of 2 weekends in a month, no advertising has ever been done. Size +-­ 150 sqm
The following items are included in the sale: all Furniture and linen; 2 x wingback chairs; 2 x 2 seater leather couches; 1 x copper fire tong set for fireplace; curtains; persian rugs; 4 x single beds with linen; 1 x queen bed with linen; 1 x king bed with linen; 12 x towel sets; 1 x Double door fridge freezer; 1 x Stove; cutlery for 8 people; 1 x Microwave; 1 x Antique bed chest ; 1 x Antique cupboard; 1 x 7 Seater table veranda set. 
3. Mine Commissioner's house
This house was the Mine Commissioner's house and also has Oregan Pine floors and ceilings. The door and windows frames are also Oregon pine. The house is currently let to an artist and we still need to renovate the interior. Structural work was done on the building. The front doors and veranda "stoep" were reconstructed. This house still has a lot of work to be done before it could be used as a guest house. Size +- 140 sqm
4. The Old Jails  
There are 3 jail cells with solid iron bars and doors. The jails are currently being renovated to be turned into a Backpackers accommodation. Size +-­ 50 sqm
5. Stables  
The Stables are also located next to the jail and will be part of the Backpackers when  renovated, forming the lounge, kitchen and bathrooms. Size +-­ 70 sqm
6. Old Zinc house 
This old house has 2 rooms and a bathroom, the house has been repainted and basic fixes were made. The foreman and field guide currently occupy the building. Size +-­ 50 sqm
7. Store and Linen room with Bathrooms  
This building is being used as an Office / Store room / Linen room.  3 x showers and 1 x toilet. 2 Room house. Size +- ­80 sqm  
     
8. Garage House
This house is behind the Commissioner's house and was once used as a garage. It has  one room and an outside bathroom. This house still needs a lot of work but can be converted into an extra guest room. Size +- ­50 sqm  
 
9. Water and Pump house
This is the pump room, with borehole and pump.  3000l Tank on 10 meter stand.  Pressure Pump  5000 Litre tank with pump and pop­up sprayer irrigation. Size +- 10 sqm    
10. Old fire house
Old Fire house, room with large steel covered swinging doors. Solid concrete roof. Currently being used as a tool shed. Size +- 10 sqm  
 
11 & 12 Public Toilets  
6 x toilets behind the museum for visitors. Size +- ­3 sqm  
 
The bush and veld  
The bush and veld around Venterskroon has lush thorn trees, Witstinkhout and Blinkblaar trees. The veld of 5.5ha can be a great future development or  double up as a holiday resort.
Created
Tue, 06/07/2016 - 18:40
Disclaimer: Any views expressed by individuals and organisations are their own and do not in any way represent the views of The Heritage Portal.