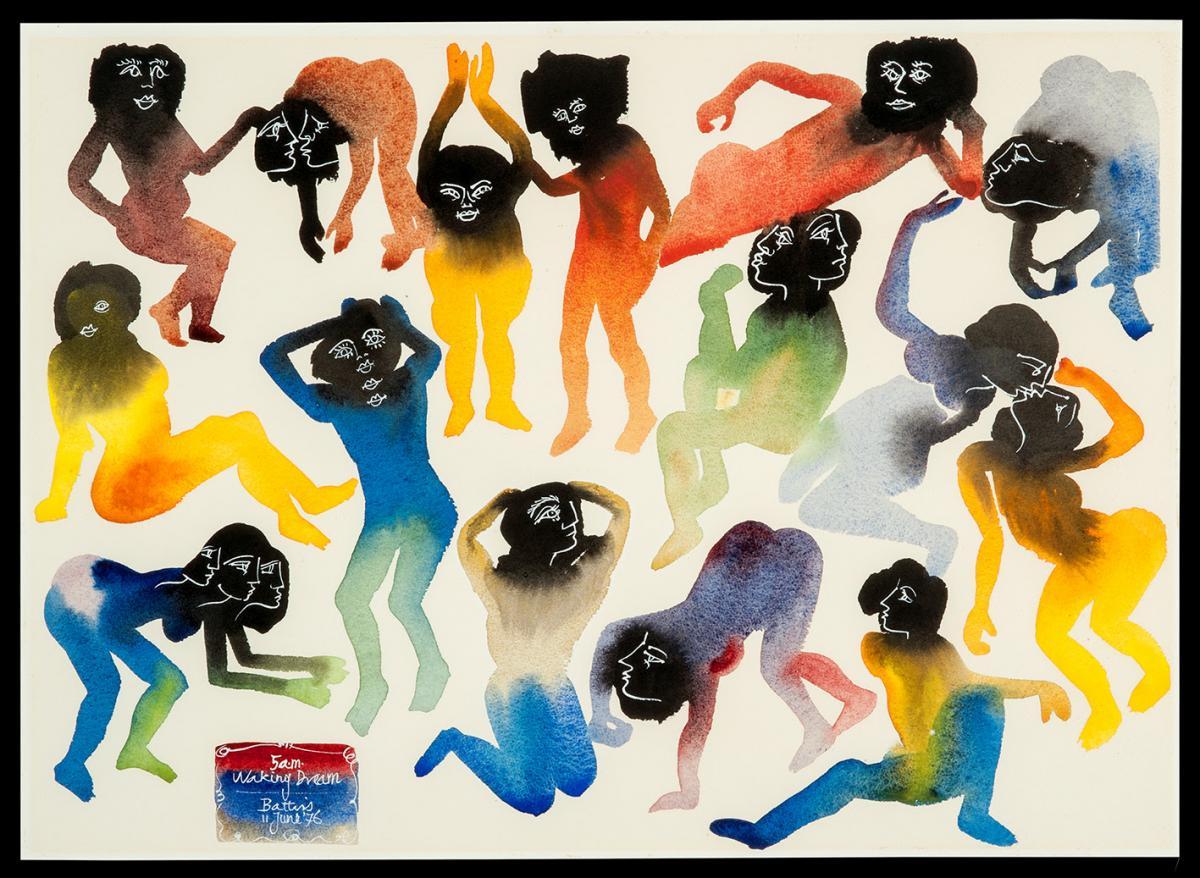 The stunning  landmark book: "Walter Battiss I invented myself, the Jack M Ginsberg collection" edited by the curator of the Walter Battiss Exhibition at WAM, Warren Siebrits, accompanies the exhibition and is a rich and full coverage of the five lives of Walter Battiss. The exhibition has been the highlight of the 2016 year at WAM. The book is a permanent record of the exhibition and the Jack Ginsberg collection. It is a top quality art book publication of some 336 pages, filled with beautiful colour illustrations of the works on exhibition. Limited editions of the book have been produced (1500) in five separate colours (300 per colour) and in high quality linen hard cover binding. Each of the colours represents the five different lives of Walter. Some collectors have bought up all five colours (and the blue binding has now sold out). 
The text comprising a range of essays by art historians (Julia Charlton and Karel Nel), curator (Warren Siebrits) and collector (Jack Ginsberg) reflects on the life work and significance of Walter Battiss. The  Siebrits essay is on the five lives of Walter Battiss. Ginsberg's chapter "Figuring Fook" deciphers Battiss' unique fun script and language. Karel Nel contributed a section on the imaginary landscape of Walter Battiss, King of Fook, and explores the link between the influence of rock paintings, island travels and the creation of a Battiss world. How and why did this artist become such a much loved and influential South African artist. This is one of those must own South African art books of the decade. 
I see Battiss' life, his work and his legacy as an expression of his personality, his evolving interests and his creative genius. One ponders the question why does this often skilled, complex but sometimes naive art have such enduring appeal. This book will grow the reputation of Battiss and is part of ensuring that the Jack Ginsberg collection remains as a preeminent and treasured collection at the Wits Art Museum. 
In a year that has seen a several excellent art books published, this book ranks as my favourite. It is substantial, erudite, beautiful, fun and gives hours of pleasure. The exhibition closes on 11th December 2016 but the book will be a treasure in your home for years to come. While the show runs the book retails at WAM at R1000 but from next year the price will rise to R1500. 
 
If you are a collector of Battiss works of art this book is a essential companion and compendium. If you are a book collector of Battiss books (my own modest interest) this book enriches a South African art book library.
Kathy Munro
For more information - 011 717 1365 or info.wam@wits.ac.za  
Created
Wed, 12/07/2016 - 15:13
Disclaimer: Any views expressed by individuals and organisations are their own and do not in any way represent the views of The Heritage Portal.