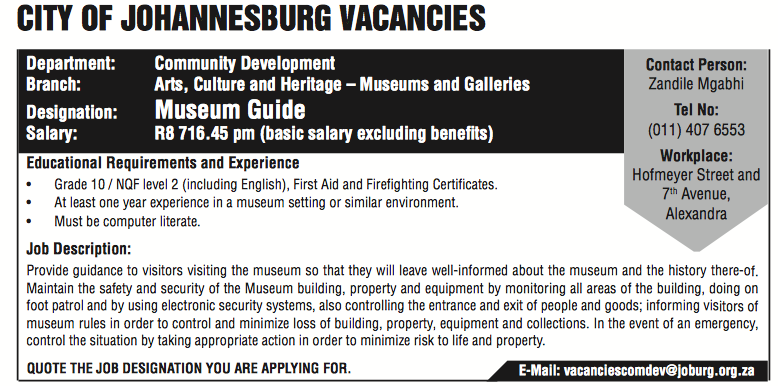 Provide guidance to visitors visiting the museum so that they will leave well-informed about the museum and the history there-of. Maintain the safety and security of the Museum building, property and equipment by monitoring all areas of the building, doing on foot patrol and by using electronic security systems, also controlling the entrance and exit of people and goods; informing visitors of museum rules in order to control and minimize loss of building, property, equipment and collections. In the event of an emergency, control the situation by taking appropriate action in order to minimize risk to life and property.
Educational Requirements and Experience:
Grade 10 / NQF level 2 (including English), First Aid and Firefighting Certificates.
At least one year experience in a museum setting or similar environment.
Must be computer literate.
General Details
Department: Community Development
Branch: Arts, Culture and Heritage – Museums and Galleries
Designation: Museum Guide
Salary: R8 716.45 pm (basic salary excluding benefits)
Closing date: 17 October 2017
Quote the job designation you are applying for.
Contact person: Zandile Mgabhi | Tel no: (011) 407 6553 | Email: vacanciescomdev@joburg.org.za
Created
Wed, 10/11/2017 - 19:37
Disclaimer: Any views expressed by individuals and organisations are their own and do not in any way represent the views of The Heritage Portal.