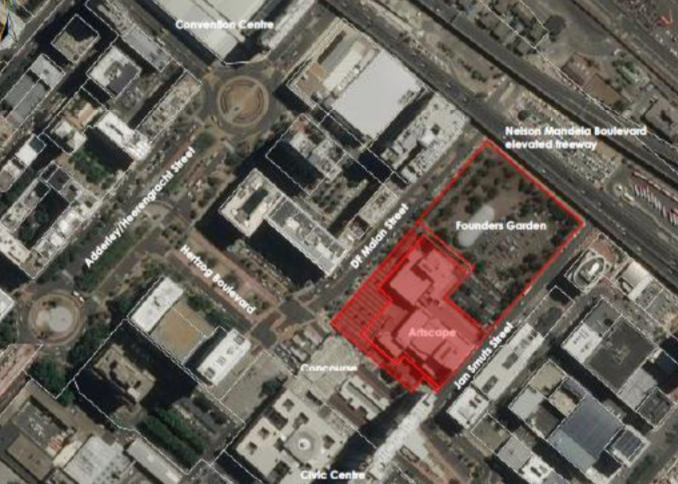 Notice is hereby given that an application in terms of Section 38(4) of the NHRA will be submitted to Heritage Western Cape regarding the following property:
ARTSCAPE PRECINCT PLAN: ERVEN 186 & 187 ROGGEBAAI CAPE TOWN
LOCAL/ DISTRICT MUNICIPALITY: City of Cape Town Municipality
STREET ADDRESS: Hertzog Boulevard, Roggebaai, Cape Town
 
Short Description of the work to be done: The Artscape Conceptual Precinct Plan proposes to retain the area's predominant character as a place of entertainment. Artscape does not plan to construct any significant expanded facilities in the foreseeable future. Precinct proposals include:
a new porte-cochere on DF Malan Street for improved taxi drop-offs and disabled access. A new building at the northernmost corner is proposed, to be used as a shop or a restaurant on the ground floor.
The large forecourt (Artscape Plaza) is to remain open to the public and for use by Artscape.
The Plaza is to be activated with landscaping and a new performance space in a building located on the south-western boundary with the concourse, maximum height 16m.
 
Members of the public and Interested and Affected Parties are invited to comment on the application. A copy of the draft documentation can be downloaded for scrutiny from Dropbox (click here to view).
Any person wishing to object or comment on heritage grounds to the application must make such comment /objection in writing to Ms. C Postlethwayt at cindy@cpheritage.co.za on or before 3 July 2020. Kindly note that objections or comments that are not made on heritage grounds will not be considered. Late objections/comments received after 3 July 2020 may be ignored.
Category:
Public Participation
Town Planning
Created
Wed, 06/03/2020 - 09:31
Disclaimer: Any views expressed by individuals and organisations are their own and do not in any way represent the views of The Heritage Portal.