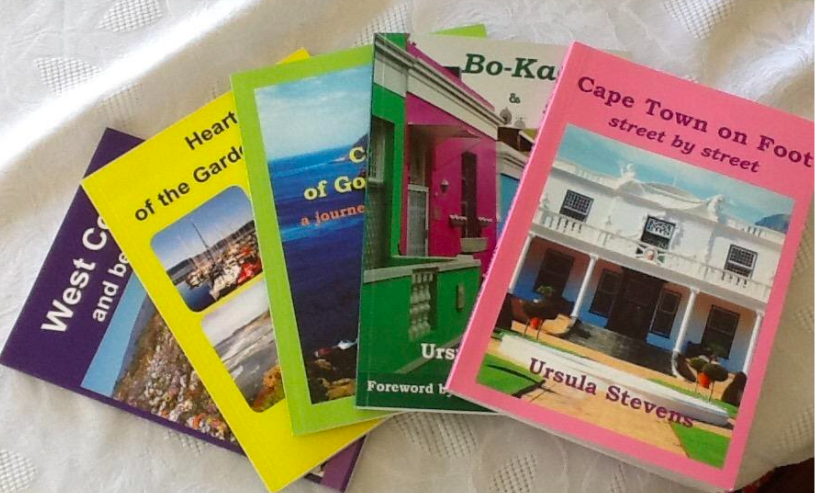 Ursula Stevens is a seasoned Cape Town based tour guide. She has taken the entrepreneurial approach to converting her walking tours into both audio guided tours and handy guide books.
Wanderlust, originally a tour company, was established by Stevens in 1981. The company focused on guided mountain walks and trails in the Cape Peninsula and the greater Cape region, including Namibia. Most tours were personally led by her. Trained as a teacher and naturally curious, she researched her tours and tapped into her touring experiences to write a number of travel books published by Wanderlust. Later, the focus shifted to the historical cultural city walking tours "Cape Town on Foot". Sadly that  enterprise was closed in 2020 as Covid took its toll of tourism.
Cape Town is one of the most spectacular of cities with its mountains, dramatic view sites, beaches and seaside walks.

Ursula Stevens' guide books are an excellent way of  discovering the beauties of the Cape and its extraordinary history. Anyone seeking to be better informed about what the Cape has to offer and to add value to a visit will find these books make for useful reading. They are introductions to the subject and all are illustrated with maps and a bibliography for further reading. She also markets VoiceMap audio tours that she created in English and German.
All her books are neat, reliable tourist guides, well illustrated with colour photographs. She knows her Cape Town and the Cape. These guides are also likely to appeal to South African travellers as well as the overseas visitor. Her guides are dense with paper covers and easily fit into a back pack.
The  five books are:
Cape Town on Foot - street by street, offers eight self-guided walks through central Cape Town, with routes carefully worked out on an accompanying map, identifying places of interest, sites and sights, significant architectural landmarks and public sculptures. The book is well illustrated with Ursula's own colour photographs and sketches by Renate Stitfall. There is a small map of central city streets with sites pinpointed. First published in 1997, this is the sixth revised edition. The facts and history are handled with a light touch with short sections summarising the historical contributions of the Khoikhoi and San, the Dutch and the British at the Cape. There are notes on selected important architects of Cape Town such as Anton Anreith, Herbert Baker, and Charles Freeman amongst others. A glossary of terms provides a speedy education in Architecture 101. There is a selected bibliography for further reading. I would have added the most authoritative book on Cape architecture by Ronald  Lewcock, Early Nineteenth Century Architecture in South Africa : a study of the interaction of two cultures, 1795-1837. (Cape Town: AA Balkema, 1963)

Cape of Good Hope - a journey of discovery . Published in 2018, this is a second edition, 5th impression. This guide book gets the visitor out of Cape Town and on a journey of exploration by car or as a hiker exploring the Cape Peninsula and its rugged landscape and stunning beauty. It covers Robben Island, the lighthouses and shipwrecks of the Peninsula; the  tourist is urged to explore Signal Hill and Lion's Head. One cannot forget the variety of original villages and Atlantic ocean suburbs of Cape Town: Three Anchor Bay, Clifton, Sea Point, Bantry Bay, Camps Bay, Hout Bay and Kommetjie. Or one can tackle the Cape of Good Hope from the False Bay side and work one's way to Cape Point from Muizenburg, to Kalk Bay, Fish Hoek, Simonstown and on to Miller's point. The Muizenberg to St James Walk alongside the railway line on the seaside pathway is always a must for a Cape Visit. The book is densely packed with essential information about the flora and fauna of the Cape of Good Hope Nature Reserve plus attractive photographs. It is a quick introduction to the variety and richness of the Cape Peninsula and its history. There are three route maps. The book is a guide for walkers and  those who choose to drive. A personal taxi or a self drive car is in fact an essential but anticipate stopping to tackle side walking jaunts. This book covers a lot of familiar ground but does so providing a lot of information. It's an area of spectacular beauty and magnificent magical view sites and Stevens is an excellent guide in the pocket.
Bo-Kaap & Islam introduces the visitor and Cape Town resident to the picturesque Bo- Kaap and the history and religion of the Cape Malay people.  This area of Cape Town is rich in romantic history of immigration and the survival of a community. It is essentially about Muslim Cape Town, Islam and the mosques. Stevens sets out to discover how religion, schools and culture shaped a unique society that battled discrimination and poverty. The book offers an introduction to  Islam and its history as it took root in Cape Town and gave people a fundamental anchor to survive hard times. A guided walking tour explores the ten mosques of the Bo-Kaap and introduces the Tana Baru cemetery. A map and a background to early migration puts the book into a context. A glossary sets out greetings and specific terminology. The bibliography lists essential works by Du Plessis, Shell and Townsend. This book is itself a welcome addition to Cape Town literature.
West Coast and beyond. This book offers a choice of twelve  journeys into the hinterland of the Cape; covering the towns of the West Coast. Seven routes guide the explorer through the towns and countryside north of Cape Town on the West Coast to the Namibian border, whilst the other five routes lead inland to the Northern Cape interior to Uppington, Kimberley and then on to Kuruman. The promotional blurb on the cover entices: "Where would you find lobsters, diamonds, flamingos, vineyards, tranquil rivers, thundering waterfalls, mining ghost towns, soaring mountains, date palms, carpets of flowers and cathedrals in the desert?" This is a guidebook for driving the suggested routes and is a handy item to have in the glove box of your car. A bibliography, business index and maps add value to this guide.
Heart of the Garden Route. This is a guide to the Cape coastal stretch from Mossel Bay to the Storms River. It offers a brief but informative introduction to the history, natural history, architecture, flora and fauna of this spectacular garden of scenic wonders and natural beauty. It's a competent guide to George, Knysna, Plettenberg Bay and Nature's valley. There are many books on the Garden Route because it is South Africa's garden of Eden with a rich history, but the value of this book is that it is brief, but dense and informative. The book includes a full description of the Otter Trail. Good colour photographs, maps and a bibliography add value.

To place an order contact info@wanderlust.co.za, or check out options on the internet and place an order with your local bookseller.
Summaries of the books written by Kathy Munro, Associate Professor in the School of Architecture and Planning at the University of the Witwatersrand.
Created
Wed, 04/28/2021 - 16:08
Disclaimer: Any views expressed by individuals and organisations are their own and do not in any way represent the views of The Heritage Portal.