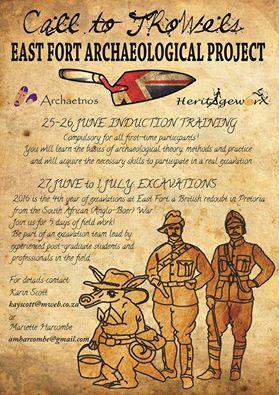 It's never too early to start dreaming about a week of fieldwork. Well, in any case, why are you still dreaming? Take the first step to making it a reality and enroll for the 2016 East Fort Archaeological Project! (with Heritageworx)
This is a public participation initiative, so anyone with a passion for archaeology can join in the fun. You don't have to be a registered student or professional, in fact, you don't even require previous fieldwork experience. Our intensive 2-day induction course will provide you with the basic knowledge and skills to know your way around an excavation trench.
Our main goal is to provide prospective future archaeologists, especially high school learners who are about to make decisions regarding their future studies, with the opportunity to 'test drive' a trowel.
You'll be guided by experienced group leaders known as Trench Commanders; post-graduate students in archaeology with ample fieldwork experience. Karin Scott and Mariette Harcombe (Heritageworx) will co-ordinate the induction course and facilitate the week's activities on site, while Prof Anton van Vollenhoven (Archaetnos) will serve as the project leader and Principle Investigator.
We look forward to having you as a part of the 2016 East Fort Team!
Created
Tue, 03/15/2016 - 16:01
Disclaimer: Any views expressed by individuals and organisations are their own and do not in any way represent the views of The Heritage Portal.