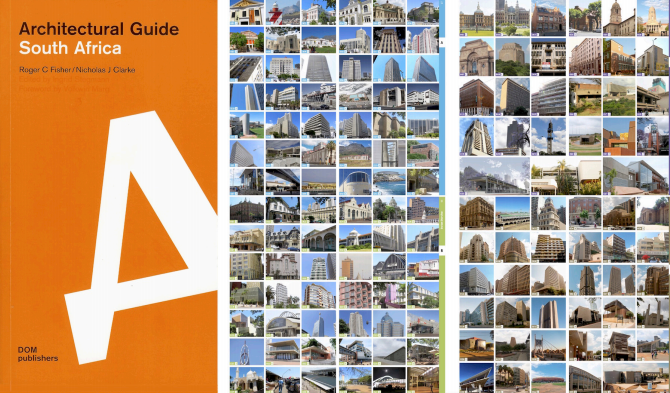 The Architectural Guide South Africa (Fisher, R.C. and Clarke, N.J. 2014, Berlin: Dom Verlag) was awarded an Award of Merit by the South African Institute of Architects (SAIA). The biennial award was made public during the Corobrik SAIA awards ceremony, held in Johannesburg on 2 September 2016. This national accolade was preceded by a 2015 Gauteng Institute for Architecture GIFA Award.
Click here to view book on Artefacts.
The authors, Roger C Fisher and Nicholas J Clarke, are both South African architects and academics. They chose to limit the focus of the book–which as a guidebook had to be compact–to the four large cities of South Africa and to present architecture that exemplifies the various stages in the architectural history of the country. Invited authors, one from each of the cities, contributed a personal essay on 'their cities'.
The Architectural Guide South Africa is a publication of the Berlin-based Dom Publishers. It forms part of their well-known international series of architectural guides. The book's publication was planned to coincide with the 2014 UIA, International Union of Architects, conference, held in Durban, South Africa. 
Roger Fisher is Professor Emeritus at the Department of Architecture, University of Pretoria. Nicholas Clarke is a former lecturer and current Heritage Studies Associate at the same department and also part-time lecturer and PhD candidate at the Faculty of Architecture at the Delft University of Technology in the Netherlands.
The Architectural Guide South Africa is available from on-line booksellers and the publishers website: http://www.dom-publishers.com/products/en/Architectural-Guides/South-AfricaArchitectural-Guide.html?XTCsid=1e28739cab9314b90aa0a788e1fa385a
Contact details: Nicholas Clarke Email: njc.arch@gmail.com
2016 SAIA Award of Merit citation
This publication provides an overview of architecture in the metropolitan areas of Cape Town, Durban, Pretoria and Johannesburg. It focuses on the built production of professional architects, and only buildings that are relatively easily accessible and that are generally in the 'public eye' have been selected.
The purpose of the publication is to inform those who are generally interested in architecture. Hopefully, professional architects will include themselves in this group as well. The publication provides brief introductions to the selected buildings and, when read and used as a guide to find, visit and reflect on these, anyone would be able to develop an increased appreciation for architecture within the chosen cities. The knowledge so gained by readers should be able to cultivate the associative meaning and history embedded in the respective built environments, which should help to increase awareness, respect and understanding of the value of what we all share.
Fisher and Clarke provide a brief and highly readable introduction to the history and traditions of the development of the architectural profession and the buildings produced by its members. This introduction is placed against the socioeconomic development and cultural, physical and climatic diversity of the country.
The sections on the different cities are ably introduced in the following sequence:
Cape Town: llze Wolff
Durban: Nina Saunders
Pretoria: Mo Phala
Johannesburg: Melinda Silverman
Each of these authors was asked to contribute due to their recognised knowledge of the respective cities, and they have approached their contributions in distinctly personal ways. Buildings and urban spaces are open to a wide variety of interpretations; these authors, at least, do not claim theirs to be a universal and comprehensive overview. However, each has provided an interesting starting point by which the architecture of their city can be understood.
The sections on the different cities are colour-coded for easy use and reference. Each building covered in the publication can be located three-dimensionally, in its physical place, by means of scan QR codes. All buildings are further identified by relatively large photographs and short descriptions.
Reading the book is quite a pleasure. Some of the contributions are fairly quirky, tongue-incheek even, but never less than professional. It is clearly obvious that every effort has been made to verify facts and information so as to provide the reader with reliable information. The publication joins a very small number of others of this type on South African architecture. It is the latest in this much-neglected group and is also the first to be published as part of an international series. This is a reflection of our changed relationship with the outside world, as well as attesting to the fact that the architecture produced in this country is of interest to a similar audience overseas.
These publications are statements of what a community holds important. Invariably, they date and assume a position in history - if they are good. This particular one has all the hallmarks to be taken up into history as a valuable contribution.
Category:
Announcements
Objects Artefacts Books
Created
Mon, 09/05/2016 - 15:23
Disclaimer: Any views expressed by individuals and organisations are their own and do not in any way represent the views of The Heritage Portal.