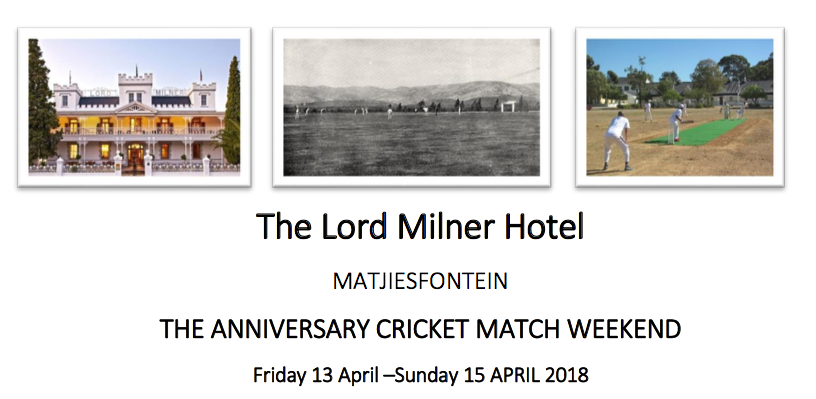 Step back in time and don the whites as Cape Town Cricket Club, Designer Tours and Dr Dean Allen celebrate the anniversary of some of the first cricket matches ever played between South Africa and England in South Africa at the Lord Milner Hotel in Matjiesfontein. James Logan founded Matjiesfontein in 1884, and built the Lord Milner Hotel in 1898. He loved cricket and lured one of the best English all-rounders, George Lohmann, to Matjiesfontein to recuperate from TB at the turn of the 19th Century. Cricket started in Matjiesfontein with the games between the touring English teams under the direction of Lord Hawke, which visited South Africa in 1894 and 1896. During the Boer War, Matjiesfontein was a rest and recuperation base for the English troops, and during that time a cricket match took place between an invitation "English Team" and an invitation "South African" team. Logan even staged one of Matjiesfontein's Test matches on the very eve of the outbreak of the Anglo-Boer War in October 1899.
Cape Town Cricket Club and Designer Tours have teamed up to provide a weekend of historic significance for the teams as they play on the original "field" and "pitch" alongside the Lord Milner Hotel in Matjiesfontein. The match will be played between a predominantly English team represented by the James Logan X1 and the George Lohmann X1 made up of South Africans from Cape Town Cricket Club.
Included in the package, Dr Dean Allen, author of "Empire, War and Cricket", will escort you on a walkabout of the village, and will present a slide history covering James Logan and Matjiesfontein's relationship with cricket in SA.
PACKAGE OFFER
Per person from R1, 600 - depending on room choice
Package Includes
Friday and Saturday: Accommodation and a la Carte Breakfasts.
Friday Afternoon: Illustrated Talk and Escorted Tour by Dr Dean Allen - Author of "Empire, War and Cricket" Saturday (Match Day): Two T20 Cricket Matches, Lunch, Tea and Braai Dinner
Access to Museums
Package Excludes
Friday: Lunch and Dinner
Transport to and from Matjiesfontein / Expenses of a Personal Nature / Beverages
For reservations please contact Roger Moult on 076-080-3468 or roger@designer.co.za
Created
Fri, 04/06/2018 - 05:25
Disclaimer: Any views expressed by individuals and organisations are their own and do not in any way represent the views of The Heritage Portal.