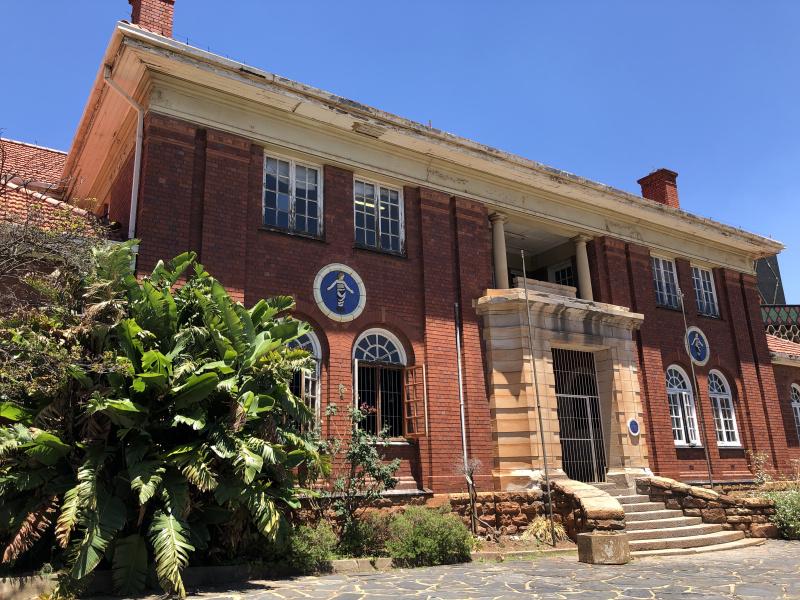 In November 2019 I was contacted by Karen Landi of Ei8ht Community whose offices are based at the old Transvaal Memorial Children's Hospital (see main image), a historic building at the bottom of Braamfontein across the road from the former Queen Victoria Maternity Hospital.
Karen had just launched the Children's Memorial Institute website at the request of the CMI board and was looking for additional information on some of the spaces within the precinct.
I had covered the Transvaal Memorial Children's Hospital along with other medical buildings in my Hospital Hill piece. One of the popular requests resulting from the piece was information on birth records from the Queen Victoria which I assumed didn't exist anymore.
Karen introduced me to Glen Ngwenya who oversees the hospitals' archive which was assembled and organised by museum professional Jordan Saltzman. Glen came to the building through one of the youth programmes and has shown an unbelievable interest in the archive and the building's history.
In November 2016, Jordan volunteered to project manage the Children's Memorial Institute Heritage Project. She has been integral in going through the CMI's archives and developing structures and systems to protect and share the information in the Children's Memorial Institute Archives.
The archive was assembled by the building's board who made sure to relocate items safely when they needed to be moved from their original location. It's still in the process of being organised and assistance is needed to go through and catalogue remaining the items.
This fascinating archive includes the birth records from the Queen Victoria Maternity home as well as diaries, records, and scrapbooks covering Johannesburg's early medical history.
The CMI buildings are home to around 30 different organisations including Childline, Autism South Africa, Afrika Tikkun, Johannesburg Child Advocacy Forum, and the Teddy Foundation to name a few.
Click here to visit the Children's Memorial Institute website.
Click here for heritage or other inquiries.
Marc Latilla - February 2020
Created
Sun, 02/02/2020 - 20:06
Disclaimer: Any views expressed by individuals and organisations are their own and do not in any way represent the views of The Heritage Portal.