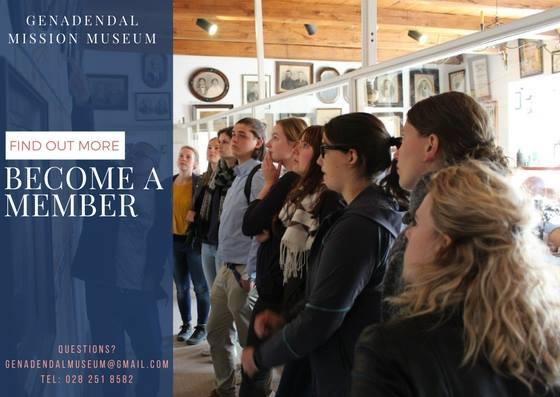 Members experience more of what makes the Genadendal Mission Museum the cultural heart of the Overberg. Your membership directly supports the Museum's mission to preserve the culture and history of the mission station and its inhabitants.
GMM membership contributes to the development of new exhibitions and projects. It also helps to maintain and care for the collection of more that 3 000 artefacts and support an active team, who focus on contributing to local and global knowledge through research and displays.
Levels and Benefits
- Free or reduced general admission to public programs
- Acknowledgement in Annual Report
- Invitations to previews, special events, and tours
- Additional discount on special Member only sale days
- Opportunities to interact with curators
- One private docent-led tour for up to ten people
Registration for new members will open on Saturday, 23 September 2017 at 08:30 prior to the Friends of the Museum meeting at 09:00 - which is open to everyone.
Experience all that the Genadendal Mission Museum has to offer - as a member.
For more information, contact us by 028 251 8582 or e-mail us: genadendalmuseum@gmail.com
Category:
Announcements
Opportunities
Created
Fri, 09/15/2017 - 16:01
Disclaimer: Any views expressed by individuals and organisations are their own and do not in any way represent the views of The Heritage Portal.