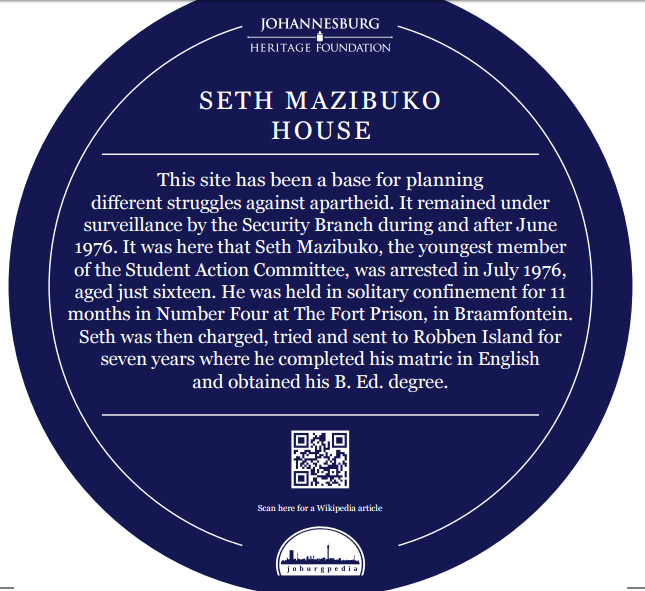 On the 16th June 2017, a plaque will be unveiled at the home of Seth Mazibuko.  A march will begin at 07h00 at Orlando Stadium. The unveiling will happen at 11h00 at 1806 Maiming Street Orlando East.
Contact Tshenolo Mokhele for full details - kwakhangela@gmail.com. The blue plaque inscription reads as follows: 
This site has been a base for planning different struggles against apartheid. It remained under surveillance by the Security Branch during and after June 1976. It was here that Seth Mazibuko, the youngest member of the Student Action Committee, was arrested in July 1976, aged just sixteen. He was held in solitary confinement for 11 months in Number Four at The Fort Prison, in Braamfontein. Seth was then charged, tried and sent to Robben Island for seven years where he completed his matric in English and obtained his B. Ed. degree.
The Johannesburg Heritage Foundation will be offering a brief bus tour that will include the unveiling. See details below:
We are offering members a brief bus tour in Orlando East on Youth Day to commemorate the march by school children in protest against the compulsory medium of Afrikaans for several school subjects. We start at the mosaic of the route and the schools which joined the March. Then we visit the statue of Tsietsi Mashinini opposite the Morris Isaacson School and visit the June 16th Museum. Back onto the bus and we make our way to Mooki Street and the home of Seth Mazibuko who was a member of the organising committee where Member of the Mayoral Committee Councillor Sifumba will be unveiling a plaque recording Seth's role and his subsequent imprisonment in Number 4 at the Old Fort gaol which was followed by 7 years on Robben Island.
We end the morning with a drive past the Donaldson Community Centre where the first meeting was held, the Police Station where they had planned to present the petition and circle back past Orlando Stadium which was to have been their destination.
There is no charge, but booking is essential as we have hired a small bus. Only 33 seats are available.
MEET: FLO BIRD AND DAVID FORREST
AT 9am, AT SUNNYSIDE PARK HOTEL
ON FRIDAY JUNE 16TH
Created
Mon, 06/05/2017 - 15:46
Disclaimer: Any views expressed by individuals and organisations are their own and do not in any way represent the views of The Heritage Portal.