Sunday, October 1, 2017 - 10:24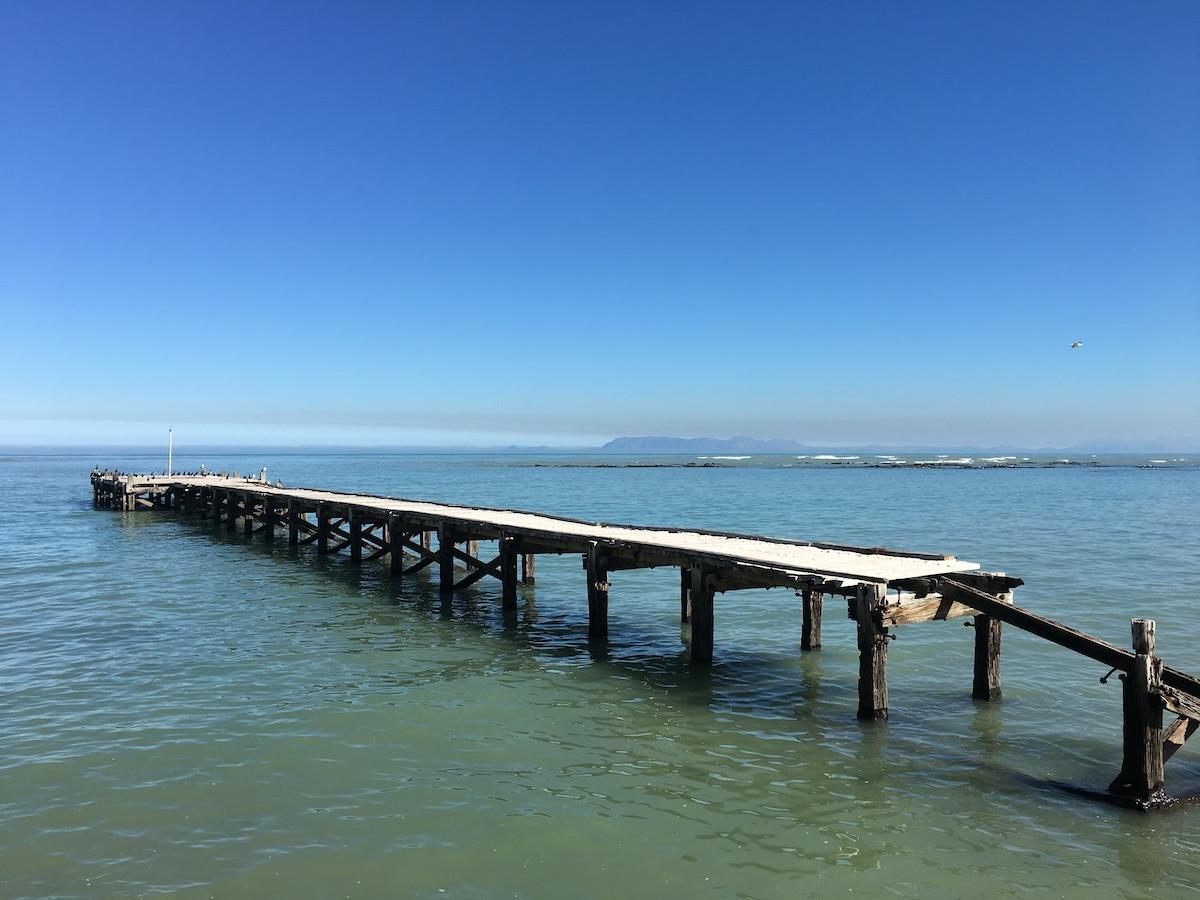 Thread Categories:
Endangered
2017 campaign nomination
Local Champion:
Elize and Ivan Mendelsohn
The Strand Jetty is a unique heritage resource with high cultural associations for a wide spectrum of users: fishermen, residents, beach users, businesses as well as local and international tourists. In spite of its deterioration and subsequent closure, it has remained an important landmark and many attempts have been made by various interest groups to safeguard and upgrade/repair the wooden structure. It has retained a strong sense of history and authenticity. With the current high rise developments on Beach road and the recent upgrade of the seawall, the Strand Jetty remains as the single reminder of the historic past of the Strand known as the first 'beach resort' and a popular fishing 'harbour'.
1953 view of Strand Jetty (via Tony Abbeglen)
The jetty was constructed in 1934, by Murray and Steward, employing local labour. It comprises a 70 m long, 2.5 m wide walkway that ends in a larger platform (7.5 x 9m), projecting into the ocean. A series of large, square, Jarrah timber log columns (330x 330 mm), of which the bottom end was tapered and metal capped, were driven into the seabed with a crude electrical 'hammer' with a weight of 2500kg. These piles were then attached to each other with wooden bracing members. A deck was supported on the structures. A small lower platform helped to cope with fluctuating access heights due to changing tides. 
Old Postcard (via Tony Abbeglen)
The Strand Jetty has now deteriorated beyond repair and has become a liability to the City of Cape Town. It was already closed-off to the public in 2002 and the City's attempt to have it demolished then was met with strong public outcry. Subsequent reconstruction attempts failed and currently the jetty had been disconnected from the shore with the construction of the new seawall. It remains too costly to repair or to rebuild. Further necessary structural support to the seawall adjacent to the pavilion is dependent on the removal of parts of the jetty for the construction of a revetment. The condition and safety of the jetty has become a most pressing issue. What is not visible from the shore is the loss of decking boards, missing structural members such as stabilising beams and bracing members, splitting of timber members and total loss of fibres in the loadbearing columns. Many of the fasteners are also corroded or missing. The jetty has just become a resting place for seabirds. 
Birds on the Strand Jetty (Ivan Mendelsohn)
There now appears to be only two options left: To have the jetty completely demolished or completely reconstructed. Public sentiments and the previous public outcry over the jetty will hopefully prevent the first option from being realised. The historic jetty should therefore be conserved and reconstructed to continue being a landmark and a cultural resource/amenity for future generations.
Source: 2017 Endangered Heritage Sites Nomination Form.
Please use this thread to add background and updates. Click here to view on google maps